Rowan Designer Q&A's - Jemma Weston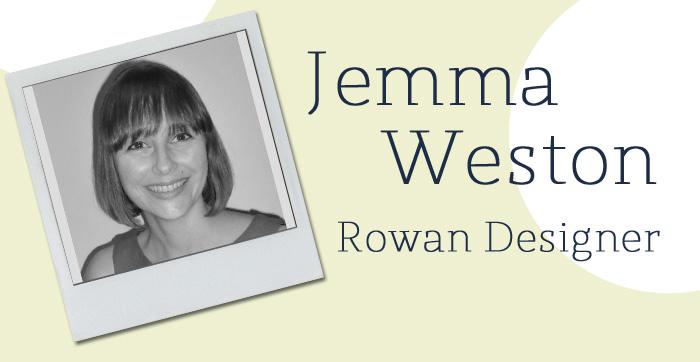 Jemma Weston is not only our sales representative for Coats but she is also a Rowan designer, recently launching her own book 'Cute little knits' featuring 10 gorgeous hand knit designs. Jemma's designs also feature in other Rowan publications and there are some fab free downloads not to be missed too. One of my favourites are her fair isle leg warmers in Rowan felted tweed. If you haven't already seen Cute little knits take a look at a selection of patterns featured below. I love the chunky monkey complete with scarf!




We thought that it was about time that we all got to know Jemma a little better, fins out her favourite yarns? favourite place to knit? inspiration? All the kind of things that us knitters (crocheters & stitchers too) like to know. Jemma has answered the Black Sheep questions below. Keep an eye out for more Rowan designer Q & A's coming soon.


Who taught you to knit / crochet?

My Grandma Weston taught me when I was very young- She was an avid knitter and always had something on the needles!

 

What was your first ever knitting / crochet project?

The first thing I remember knitting is a Christmas decoration... but i'm not sure if that was my first ever project. I can't remember that far back!

 

Where do you find inspiration for your designs?

Working as a sales rep for Coats and going to a weekly knit group in Nottingham, i'm lucky to meet lots of creative people who inspire me! Rowan's beautiful yarns are my main inspiration though. The colours and textures.....the ginger felted tweed was just shouting to be made into a fox!

 

What is your favourite yarn to knit with?

Am i allowed more than one?! Felted tweed is probably my favourite for the fantastic colour palette and great meterage. Kid Classic would come a close second- it's so quick to knit on 5/ 5.5mm needles, is light to wear but still feels lovely and warm.

 

Where is your favourite place to knit?

At Lee Rosys cafe in Nottingham on a Tuesday night with the Knit in Notts ladies (and gents).

 

Do you ever watch TV or listen to music when doing your knitting / crochet? If yes anything in particular?

I'm incapable of watching tv without having a project on the go! I'm addicted to old episode's of ER at the moment, but I'm on the last series so I need to find something new to have on in the background while I knit...any suggestions?!

 

Do you have a favourite knitting / crochet snack?

Chocolate milk is the perfect accompaniment for any knitting project!

 

What other knitwear designer do you admire?

I love Kim Hargreaves and would happily knit almost everything in her books! I'm a big fan of all the Rowan designers and love looking through old copies of Rowan mag's.

 

Do you have a knitted / crocheted treasure? A piece that you could never part with, a gift or maybe something you have made yourself?

I have my Grandma's collection of knitting needles. I never use them because they're metal and I prefer bamboo/ wood, but I couldn't part with them!

 

Do you enjoy knitting / crocheting for yourself?

Yes... I'm a knitoholic! If only there were more hours in the day.....

 

If you would like to follow Jemma on facebook or find out more about her designs head to her website jemweston.co.uk!