Introducing A Spicier Life Crochet Along
Today we have exciting news to share. Do you remember the Spice of Life crochet along from 2015? If you do, then prepare yourself, something amazing is on its way. For those who don't, hop on over to Instagram and search #spiceoflifecal or visit our Facebook group and you will see what all the fuss is about. We were all captivated by the original Spice of Life blanket, it's hard to believe 2 years have gone by since it launched. It was a phenomenal success and is still continuing to be a popular make amongst all levels of crocheter today.

It is time to announce Spice of Life part two - A Spicier Life Crochet Along. We have once again teamed up with crochet super star Sandra Paul (Cherry Heart blogger) to bring you yet another fabulous crochet along project. Secret talks with Sandra have been going on since early 2017 and we are soooo happy to be able to share our news with you after all this time. Sandra has hand picked four colourways for this CAL. The original colourway in Debbie Rialto DK - Jaipur, with an alternative in Stylecraft Special DK - Jaipur. There are 2 more options both in Stylecraft Special DK - Taj Mahal and Bollywood. All of the colour packs are available to purchase on pre-order. Take a look here.

If you are joining in with A Spicier Life Crochet Along, don't forget to use the hashtag #spicierlifecal on social media so we can see your progress. We have also set up a new Facebook group - A Spicier Life Crochet Along.

Before full details are released on Tuesday 19th September 2017, we caught up with Sandra to find out more about A Spicier Life Crochet Along. Read our natter with Sandra below.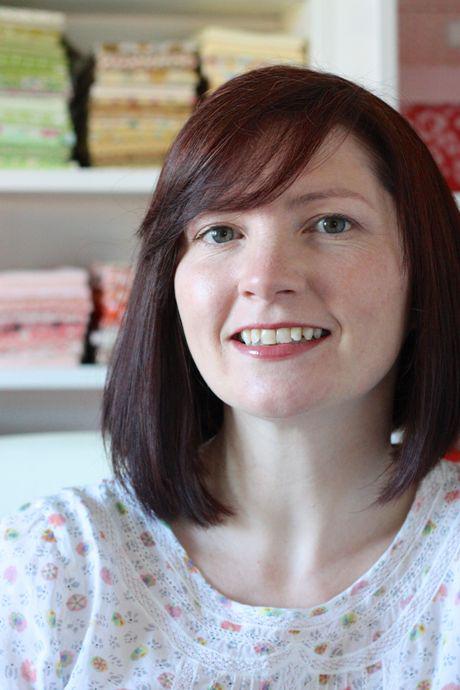 How did the popularity of the Spice of Life CAL affect your world of crochet?

Well the whole experience was completely surprising in so many ways and the way it took off in the crochet world was the most amazing thing.  I really didn't expect people to react so well to it and enjoy it so much, although of course, I'm so happy they did.  I ended up learning a lot from the experience which is always useful and it brought more attention in a way I'm not used to.  Luckily though the crochet world is a pretty kind and wonderful place and I got to meet some lovely people as a result of the CAL.

What is the inspiration behind 'A Spicier Life' crochet along blanket design?

I really wanted something that would relate to the original Spice of Life blanket and I still had plenty of ideas for stitch patterns that I would love to use, so in a way it all came together quite easily this time round.  The colours, my usual starting place for any project, were definitely influenced from the 'spicy' name of the original and I immediately starting thinking of what, for me, represent some more far off and exotic places in the world like India.  The imagery that I found captured that idea perfectly are also the reason behind the colours and names of the yarn packs.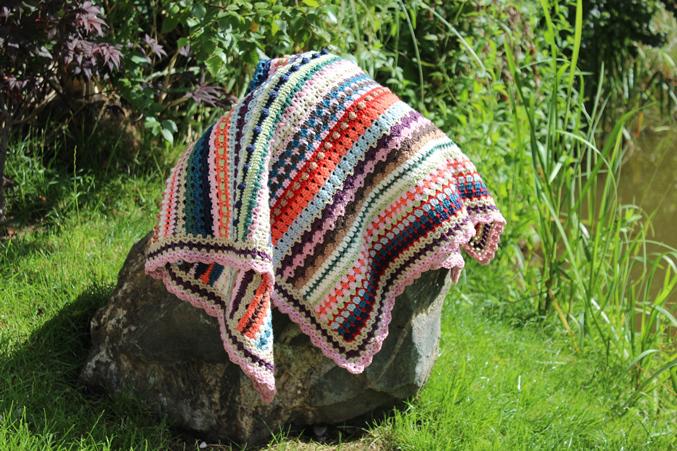 There are so many gorgeous stitches in 'A Spicier Life', lots of texture and pattern, which is your favourite stitch?

I always find it hard to pick favourites, but I'm really enjoying the more textured stitches at the moment, so I like the Victory Puffs because they are so soft and I love the Bobbles for the little pops of colour.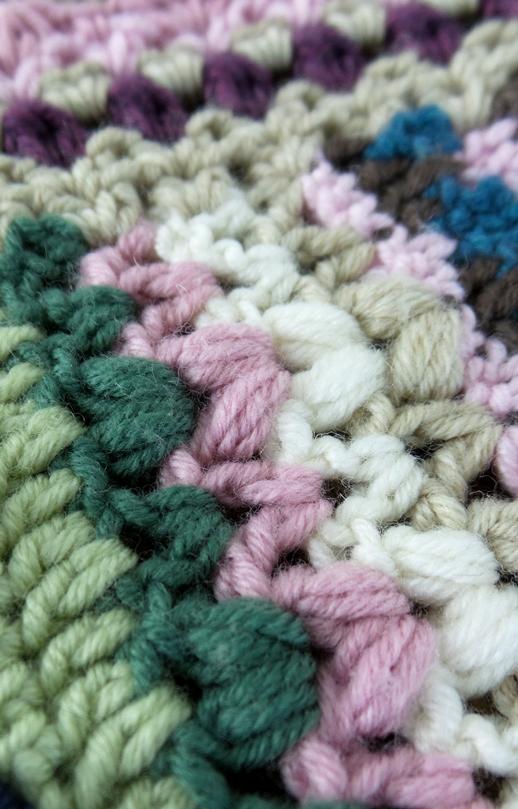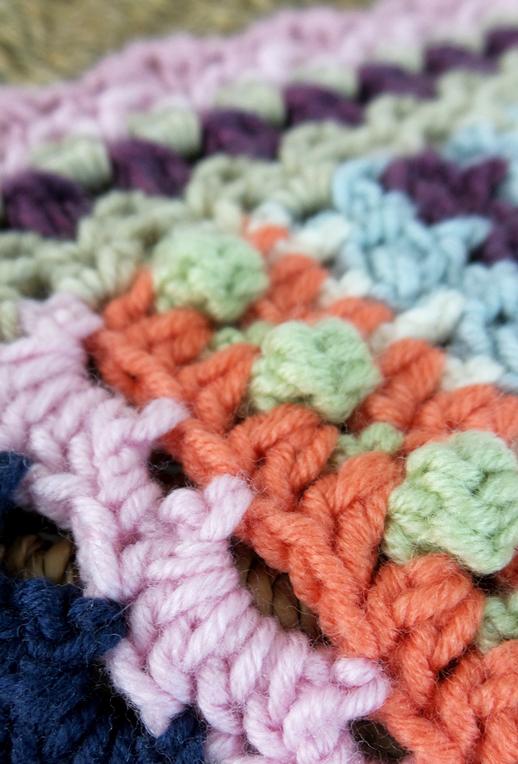 What skill level is required for the Spicier Life CAL? Is it suitable for a beginner?

It really overlaps quite nicely with the Spice of Life on the skill level, starting with easy stitches and then working up to intermediate ones and then taking things a little further. I'll be introducing some new stitches and even a few slightly more advanced ones.  I wouldn't recommend this pattern to absolute beginners but anyone is confident with the basics and working back and forth in rows should be able to give it a go as there will be extra help to explain all the new stitch patterns.

How did you find the Debbie Bliss Rialto DK to work with?

An absolute joy!  It's a wonderful to the touch, so soft and bouncy and it glides over the hook like a dream.  It's also the perfect choice for a project like this as the merino means that any slight changes in tension as you work through the different stitch patterns can just be blocked out and disappear away at the end.

What other projects have you got on at the moment? We spotted you on the home page of Ravelry a couple of months back. That must have been exciting!

The Ravelry front page was a real surprise and I must admit, I felt quite honoured to be featured!  Just lately I've been catching up on some commission work, as it's easier to fit a little crochet in than find computer time during the summer holidays, but hopefully I'll be able to get back to writing up a few new patterns soon.

What is your creative process? Where do you enjoying working?

My process tend to vary depending on what project I'm making.  In an ideal world I like to make up samples to test out ideas and check I'm getting the look and feel that I'm after before I take things further but sometimes it's a little more off the cuff than that.  I do like to keep a note book where I sketch out ideas though, sometimes my hook can't keep up!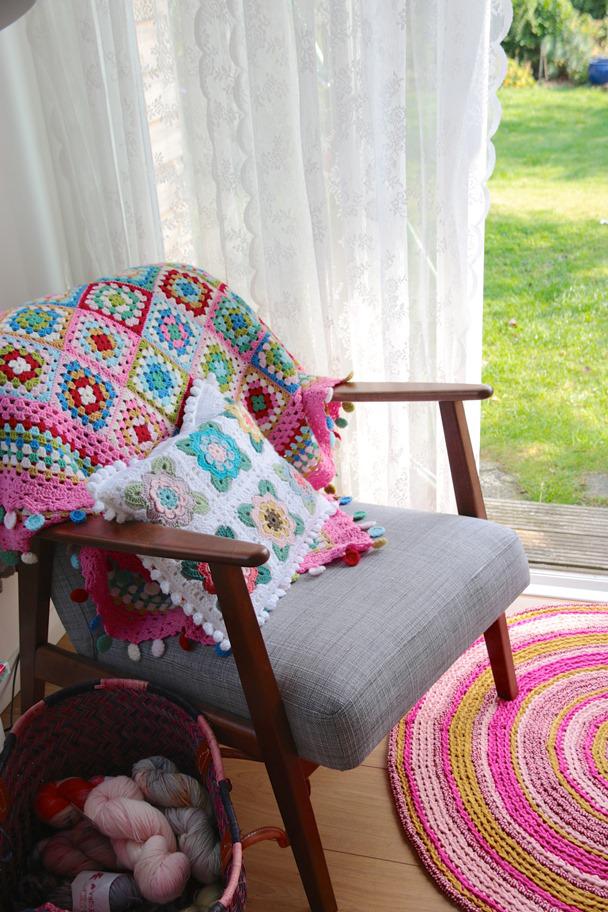 I spend most of my time up in my 'Craft House', a little space that I have at the end of the garden.  The reality is that a lot of my time is spend at the computer desk I have up there these days, but of course I've made sure I have a cozy corner for those special occasions when I do get to play with yarn.  It's nice and near the window so I can take advantage of any sun.

Do you have any future crochet plans in the pipeline that you can share? A sneaky peek, perhaps?

I have a couple of projects using Batik DK that I'm having fun with at the moment and I'm looking forward to those coming out.  One is for a magazine feature and one will be on the blog in October, I can give you a little glimpse of those!