Sara interviews Betsan Corkhill
Betsan Corkhill came to the Craft Barn for Therapeutic knitting day on 4th October. Whilst here sharing her findings with customers in the Craft Barn we took the opportunity to film an interview too. It is a great opportunity for those who couldn't make it to the event, to watch and gain an insight into Betsan's work whilst discovering how she came across the idea of therapeutic knitting, researching for her book and setting up Stitchlinks.



If you have enjoyed watching the interview with Betsan Corkhill and want to find out more her book, 'Knit for Health and Wellness' is available to purchase now on our website. If you are interested in setting up your own therapeutic knitting group and would like a starter pack please contact Betsan via Stitchlinks or email lesley@blacksheepwools.com.


Here are a few photographs taken throughout the day.



Catherine from Spa Beautiful was offering a complimentary hand massage on the day.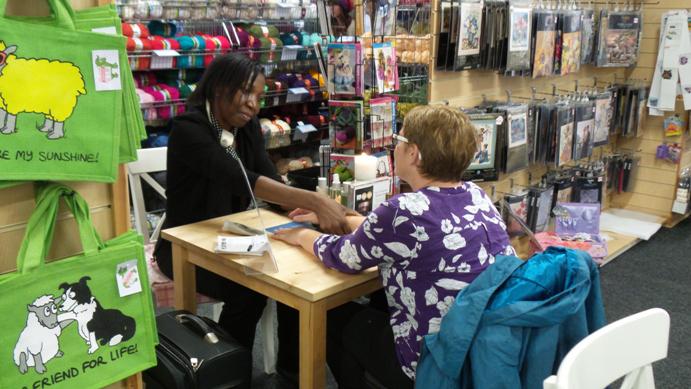 On entering and exiting the Craft Barn we had a mood scarf. We asked customers to knit a row or two to express their feelings on entering and exiting the Craft Barn.