Hand - Dyeing Workshops with Debbie Tomkies
Have you ever dreamed about creating your own yarn? What colours would it be? What weight would you go for? All of your wishes can come true at one of Debbie Tomkies Hand - Dyeing Workshops at the Craft Barn.
Debbie is a textile designer with over 25 years experience. She runs workshops at various locations working with both yarn and fabric. Debbie also runs a social enterprise called 'Making Futures', working with colleges and community groups, doing creative activities to help build confidence and self-esteem. Not only that, Debbie is also an author of three books.

This summer Debbie Tomkies will be teaching two different hand - dyeing workshops, one using natural dye extracts and the other using synthetic dyes. A great excuse to have a day of fun playing with colour. Each participant will be given a 100g hank of yarn to dye. Debbie will bring a selection of Merino, Bluefaced Leicester and wool blends in either sock (4ply), laceweight or DK. As part of the workshop Debbie will also give everyone one of her pattern designs, so that you can get started knitting or crocheting your hank of beautifully dyed yarn as soon as you get home.

I asked Debbie for a run down of the difference between the two workshops -

"In terms of the differences between the synthetic and natural dyes, I would say that the synthetics are more repeatable and give more reliable repeatability between batches. It is also easier to predict the final colour as the dyes look on a test paper much the same as they will look on the final yarn. The synthetic dyes give the full range of colours from very bright to soft, muted tones and pastels (they needn't all be eye-popping brights!). Synthetic dyes are very consistent in terms of strength and it is relatively easy to predict how much dye to use to give a desired depth of colour. Synthetic dyes are ideally suited to a wide range of techniques, including immersion, handpaints, rainbow dyeing, gradient dyeing, speckling and all kinds of fun projects. They are also suitable for fibres, fabrics and other natural materials.

The natural dyes, on the other hand, have more tonal qualities as they often contain numerous different colour components within the plant itself. This gives a subtle toning to natural dyes that is harder to achieve with synthetics. The natural dyes can certainly be rich in shade and give deep colours but tend not to be on the 'neon-bright' end of the spectrum! Natural dyes are a little harder to predict as the powders tend to look quite different and often the colour only really blossoms once the dyeing is in progress. Of course that is part of the magic! Natural dyes are also sensitive to other factors. Colours can be changed by adjusting water pH or by adding 'colour modifiers' (for example, citric acid, iron sulphate or sodium carbonate). This really extends the colour palette and makes for interesting combinations. Natural dyes can be used for handpainting and other techniques but this does take a little more mastering than with synthetics. Like synthetics they can be used on virtually any natural fibre, yarn, fabric or other material."

Hand-Dyeing wih Synthetic Dyes

Introduction to Hand - Dyeing with Synthetic Dyes is taking place on Saturday 20th May. This is a full day workshop that costs £65, which includes all materials, a delicious finger buffet lunch and a tea break in the afternoon with homemade cake. You will have a gorgeous hank of yarn to take home and one of Debbie Tomkies' patterns.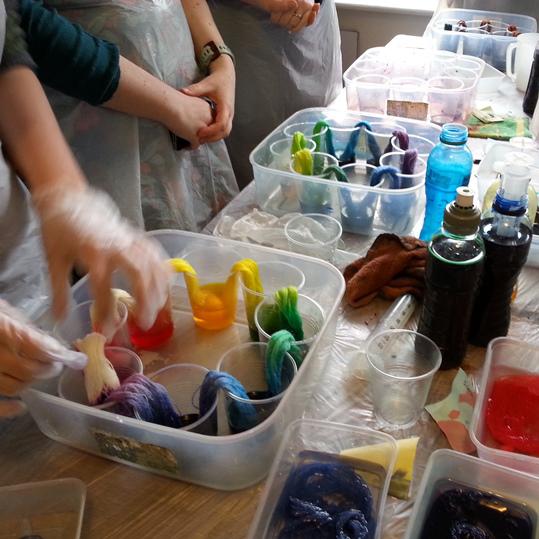 Hand - Dyeing with Natural Dye Extracts

The Introduction to Hand - Dyeing with Natural Dye Extracts workshop is taking place on Friday 2nd June and cost £65 for the full day.. Natural dye extracts are so versatile and easy to use. There are so many beautiful colours that can be created mixing the powders. The same applies for the natural dye extract workshop to the synthetic, all materials are provided (including a pinny) and your choice of 100g hank of yarn to dye.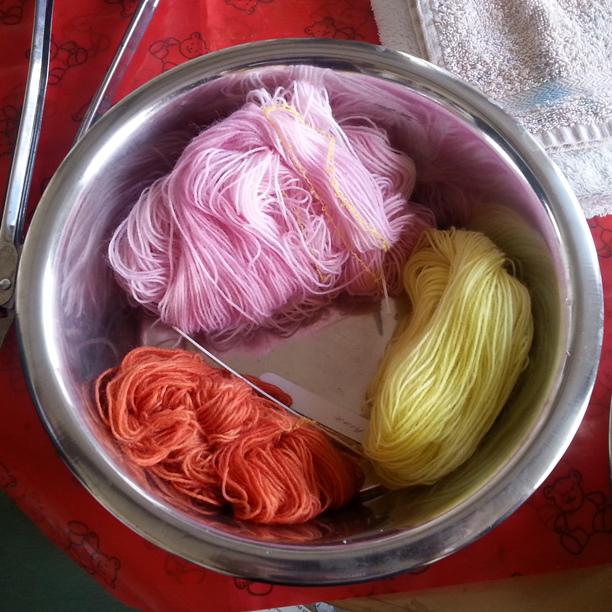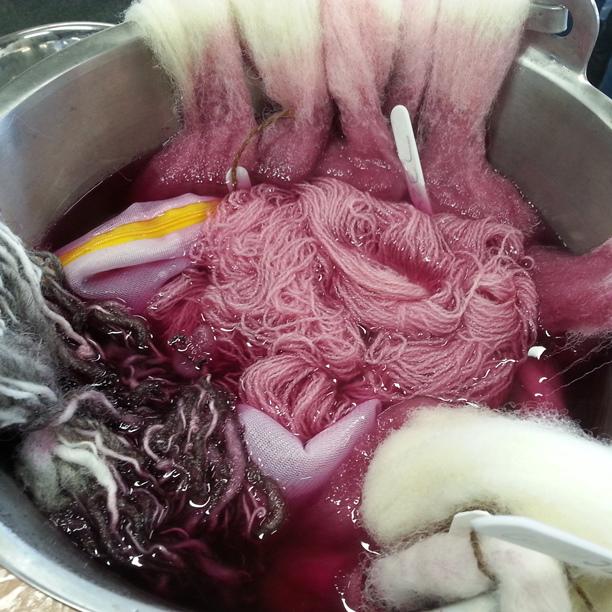 We are always updating our workshops listings online. If hand-dyeing doesn't take your fancy, then take a look at the many other workshops that we offer.