DIY Knitting and Crochet Tips
What do all of these items have in common? They can all be there to help you out when you don't have the correct knitting or crochet tools to hand. Sometimes you can discover that a household item that you use every day, actually lends itself to crafts more than you realise. One day it's in the kitchen cupboard, next it is taking pride of place next to your project bag. A collection of DIY knitting and crochet tips.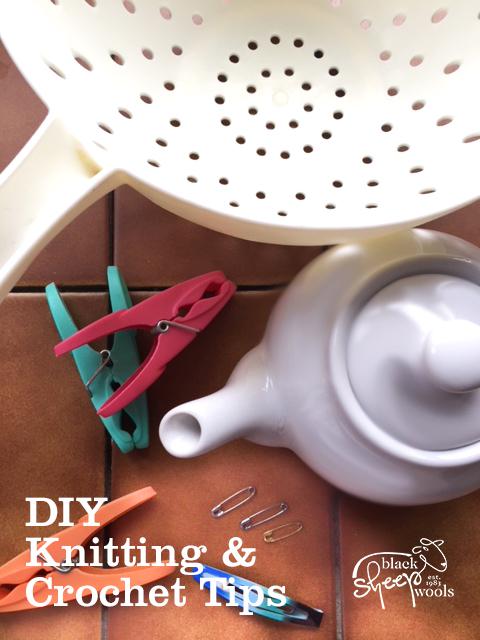 We asked our Facebook followers - Do you ever find yourself using household items to help with your knitting and crochet? 
Along with Black Sheep staff too, there were some brilliant suggestions made. Crafters are a resouceful lot, thank you to everyone who shared their tips. It only made sense to pool all of our DIY knitting and crochet tips together in one blog post. We have probably only really scratched the surface of what super ideas you crafty lot use. If you do think of any more please comment below this post.

DIY Knitting and Crochet Tips

Highlighter tape / Post it note

Handy items from your stationary draw, highlighter tape or a post it note. These will be there for you when you are following a chart (also good for a complex row on a pattern) and want to keep track of the row you are on. Move the tape / post it up a row every time you have completed a row. So simple, yet very helpful when you are deep in concentration. A post it can also double up as somewhere to write down where you are up to on your pattern when you are putting it away for the day.

Paperclips / Safety Pins

Paperclips or safety pins can be a saviour when you just can't put your finger on where you put that tin of beautiful stitch markers you bought. Not as pretty, but do the job in your moment of need. Another good suggestions is a scrap of contrasting yarn. We all have an old scrap of end of balls at the bottom of our project bag!

Hair Clip

This was a fab suggestion from a Facebook follower called Marie, use a hair clip to keep your ball of yarn neat and tidy. Really helpful when you are making a blanket or something that requires multiple shades of yarn being used at once. There will be no excuse for tangled yarn with this top tip.
A hair clip can also be handy for when you are transporting a project on the go. Use the clip to snap onto where you have just stopped working to help prevent any unravelling.




Nail Clippers

As a knitter or crocheter you will know that although sometimes you think your fingers can withstand snapping the yarn it is just not possible without nearly injuring yourself. With scissors no where in sight, but a pair of nail clippers to hand they will do the trick. Also, nail clippers are ideal to carry with you if you don't won't to have sharp scissors.

Bamboo Skewer

Maybe not for too many stitches, but a bamboo skewer could be helpful as a temporary stitch holder.

Plant Pot / Teapot / Colander

A yarn bowl is a great invention for your ball of yarn to bob up and down in gently rather than thrashing around your feet as you knit. Not always so dramatically, but we've all had a rogue ball of yarn that won't sit still. An actual yarn bowl has been designed with a lip of holes to feed yarn through. A make shift yarn bowl can come in many guises - a plant pot, teapot - feeding the yarn through the spout or a colander - so many holes to choose from and plenty of space for a large ball of yarn.

Cocktail Stick

When you are knitting a pair of socks or rather fine needles a cocktail stick makes for a good cable needle.

Supermarket Beer / Wine Carrier

A Facebook follower called Chris, suggested a supermarket beer / wine carrier as multiple use yarn holder. When you are crocheting (or knitting) with 6 to 8 balls of centre pull yarns all at once, all of the balls can sit snuggly in the beer / wine carrier without any tangles.

Pegs and Washing Line

Black Sheep Lucy, blocks her lightweight shawls by pegging them on the washing line. With lots of pegs the weight will help to block the shawl out to your desired shape. It saves you having to find a flat area large enough to pin it out and block.