Designer Q & A's - Arne & Carlos
[caption id="attachment_10162" align="aligncenter" width="377"]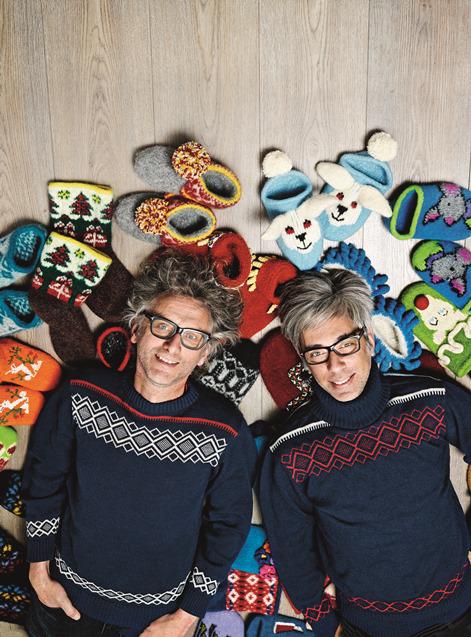 [Credit - 30 Slippers to Knit and Felt, Arne and Carlos Knitting Scandinavian Style, Arne and Carlos' Easter Knits, Knitted Dolls with a Designer Wardrobe, 55 Christmas Balls to Knit, Knit and Crochet Garden][/caption]In anticipation of the upcoming workshop and lecture with Arne and Carlos at the Craft Barn, I sent over a few questions to find out more about the talented duo. The answers below are just a brief snippet into their creative lives, I am sure they will have lots more to share in their lecture on 23rd February 2016. If you can't make it to the lecture* (there are still a few places left) you won't miss out completely as we do plan to film a short video with them too. Keep an eye out on our YouTube channel for this popping up.

*If you would like to book a place on the afternoon lecture (2pm -3pm) please call 01925 764231 or email info@blacksheepwools.com.

When did you first pick up a pair of knitting needles and learn to knit?

Who taught you? Did you knit / crochet from a young age? Arne started very young, probably before Primary School. He learnt from his mother, grandmother and great grandmother, as they all lived under the same roof, in a farm in the traditional Gudbrandsdal region of Norway, where his ancestors have continuously lived since the early 17th century. Carlos learnt as a child too, also at school, as crafts were taught to children at school in Seden in the late 70s. He stopped knitting for a while, though, and picked it up again as an adult.

Can you recall your very first finished project? What did you make?

Arne made a scarf with the letters: ABBA. Carlos can't remember, made a bracelet for his mom.

How did you get into designing?

Arne has a degree in fashion design for the school of design in Norway, so he is a professional designer and also worked as a teacher in fashion design and pattern construction.

Your first book '55 Christmas Balls to Knit' was a phenomenal success and has now been published in over 10 different languages. What inspired the choice of Christmas baubles?

It was just the idea, of taking the already existing, traditional knitting patterns that form part of our heritage and finding a new way to use them. The idea of a bauble was very appealing, because it was a small item that could be knitted very quickly. At the time, no one was knitting Christmas Balls.

Do you prefer to make small scale projects, such as baubles or larger items, such as garments?  

Definitely small projects.

What would be your one knitting accessory that you can't live without?

A nice thick scarf, to protect us from the cold Norwegian winter.

I read that you have worked with many international brands including fashion house Comme des Garçons. That must have been an exciting opportunity, what did you design?

Do you have any photographs? Among other things, we designed the Space Invader Sweater that Arne wears on the cover of 55 Christmas Balls to knit.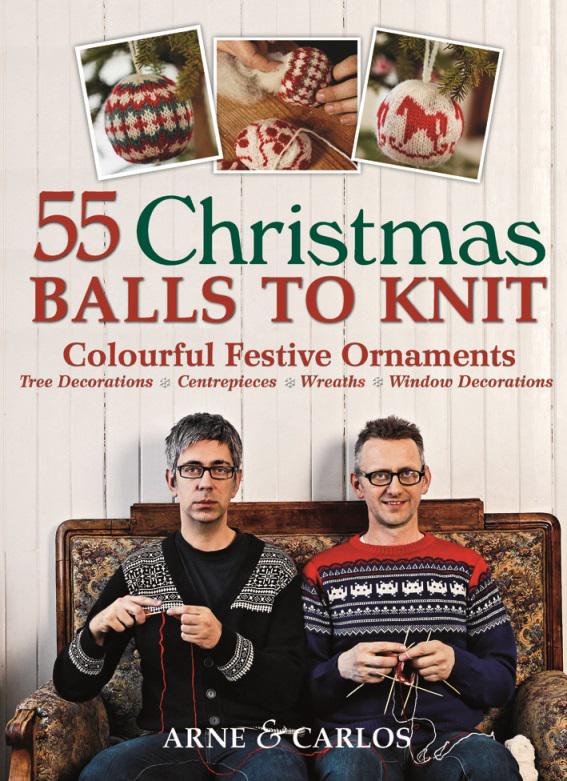 Can you give us just one knitting tip?




Knitting tip: When you knit with 2 colours, always carry the thread you are not knitting with for a maximum of 5 stitches, then twist with the other thread, to lock it. That way, you wont have too long floats. If you need to twist on more than one row, make sure you never twist in the same place in the row immediately after, as the other colour will show through.




Do you have a favourite colour combination you are always drawn to for your fair isle knits?




No. We like to work with all colours. I think the way we put colours together is what makes us stand out from all the other designers. We do it instinctively.




Do you enjoy knitting for yourself? If so, what do you make?


Yes we do, but unfortunately it's been ages since we had time to make something for ourselves.


Where is your favourite place to knit?


In winter, it's in front of the fireplace. In summer, it's in the garden.


Where do you begin when you are starting to design for a new book? Do you begin with colour, a theme etc?


We usually start with a small idea and then look for ways to develop. It is not easy to explain how we do it, though.


Do you have a knitted / crocheted treasure? A piece that you could never part with, a gift or maybe something you have made yourself?


Actually, we have an archive of old knitted pieces that we collect. The most precious ones are the jackets and sweaters knitted by Arne's grandmother, as they are exceptionally well made.


What exciting projects do you have coming up in 2016? Anything that you can share with us?




We are excited about the first catalogue for Schachenmayr (I believe it's for Patons in the UK) that will be out in the summer and also about the new yarns we have designed for Schachenmayr.