Betwixtmas Shawl Top Tips
Have you seen our Betwixtmas shawl? It is a delicate lace design, combined with simple stocking stitch, knitted in a hank of Fyberspates Vivacious 4ply. This is a project to cast on in between Christmas and New Year.
The designer of the shawl is Bronagh Miskelly. She is kindly put together a blog post with her top tips on knitting the shawl. We would recommend having a practice of the crochet cast on method with scrap yarn before you commence knitting the shawl. With Bronagh's hints and tips to hand you should have all your questions answered. Don't forget to share your progress in our Black Sheep Wools Facebook Make-A-Long group. We can't wait to see which shade of the delicious Fyberspates Vivacious 4ply yarn you have chosen.


Betwixtmas Shawl Top Tips
Guest Blog by Bronagh Miskelly
Getting started with your Betwixtmas Shawl
If you haven't made a triangular shawl before, there maybe a couple of things that you aren't familiar with, so here are a couple of tips to help you along.
But don't worry, there is nothing complicated in this shawl, if you can knit, purl and put your yarn over a needle you are ready for anything in the pattern.
Getting started
The first thing the pattern asks you to do is to crochet a chain of 4 sts in some spare yarn and place these on you knitting needle before knitting them with the main yarn.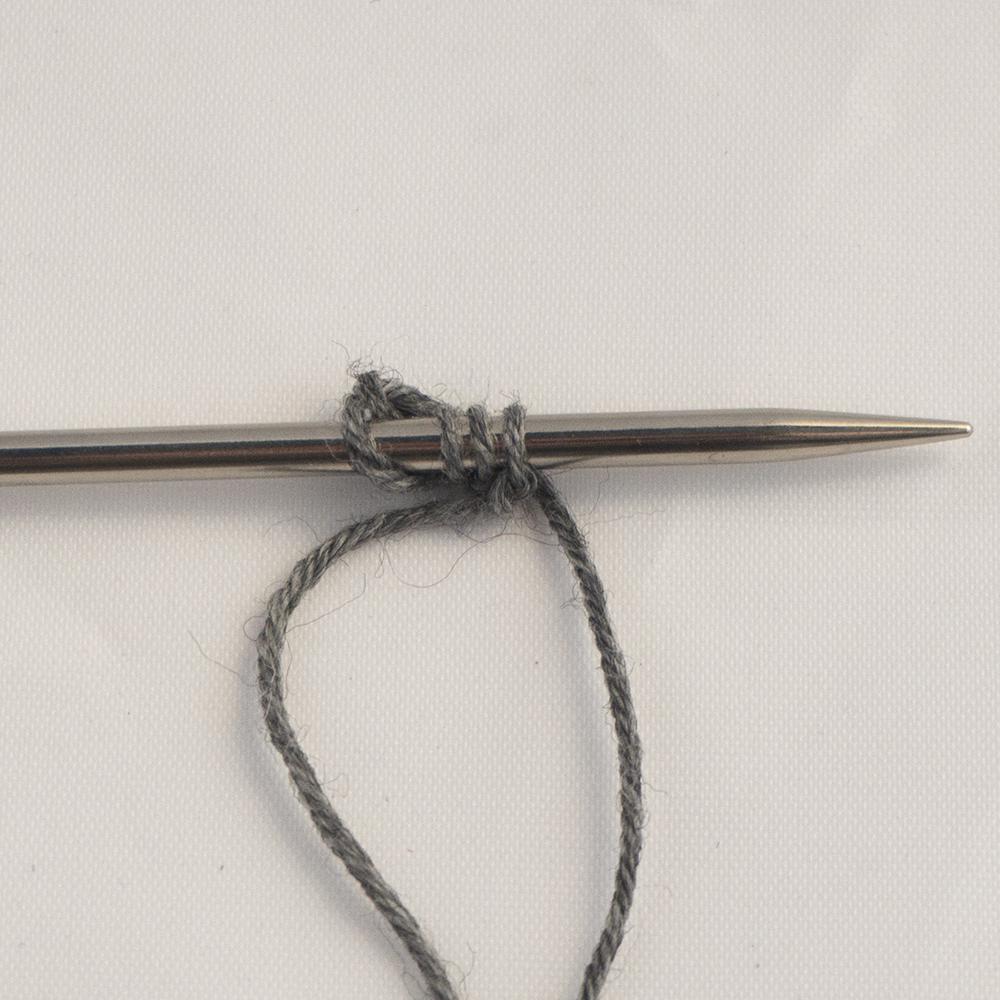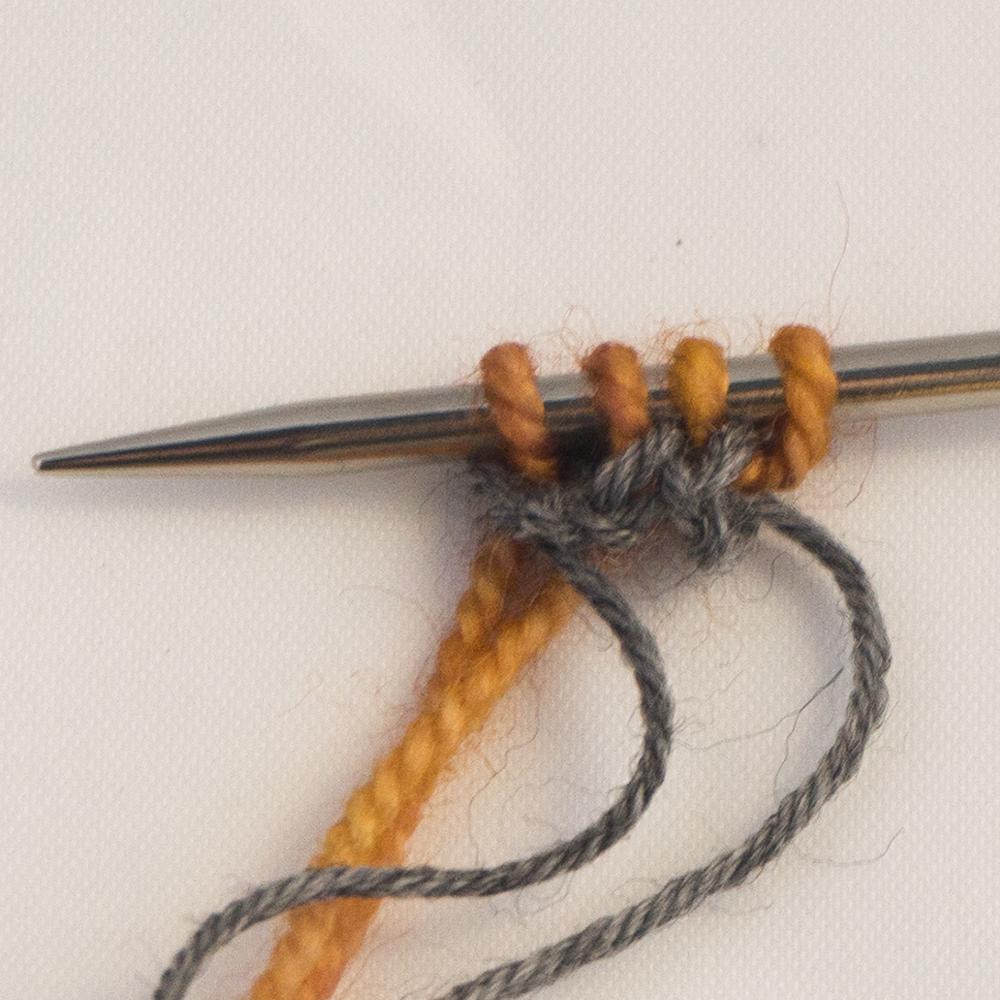 This is a provisional cast on method, which is a way of having stitches at both ends of a section of knitting. Once you have worked a number of rows (a total of five in this case) you unravel the chain of crochet to reveal live stitches at the bottom of your piece of knitting.
If you are worried about dropping stitches when you unravel your crochet, us a spare needle to pick up the stitch loops before you remove the spare yarn (as shown below). It is a good idea to use a smooth yarn for your crochet stitches so it is easy to remove.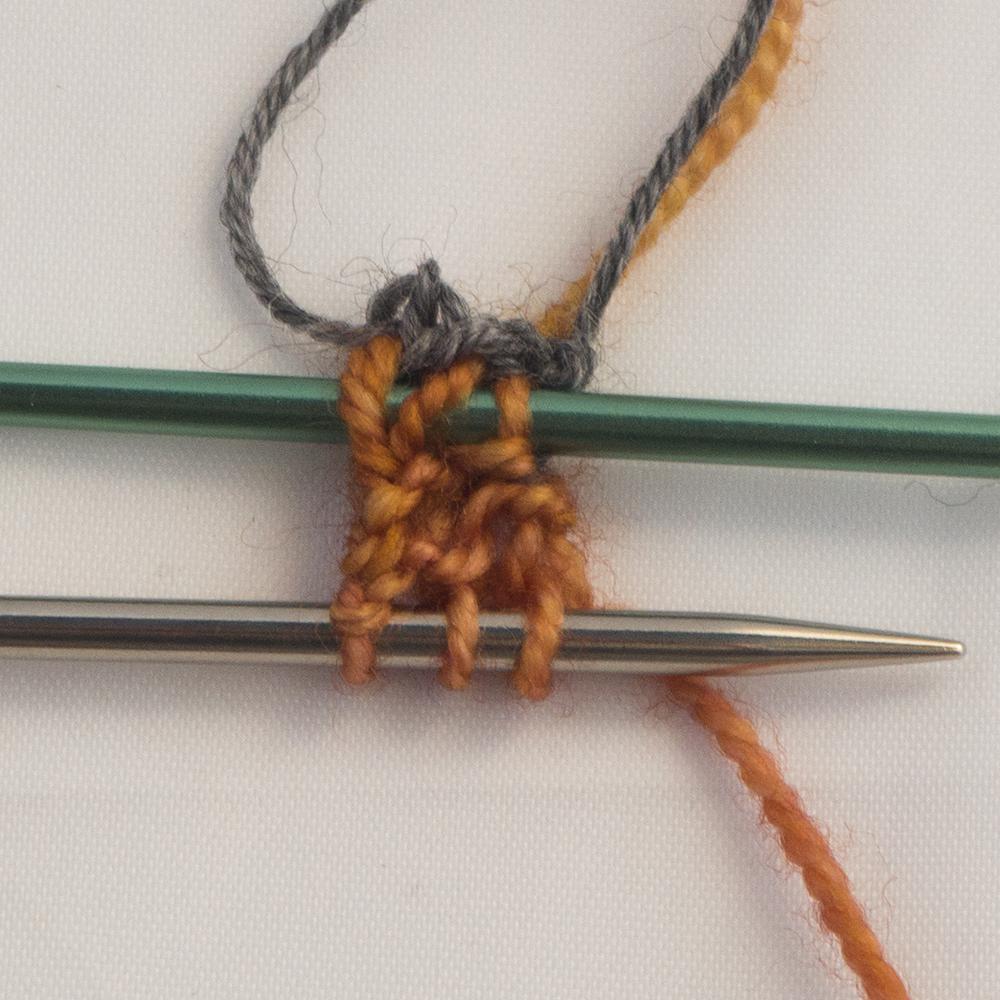 Once you have revealed your stitches from the provisional cast on, they work just like any other stitches. In this case you knit the three original stitches, pick up some down the side of what you have knitted so far and then knit the three from the provisional cast on. This means you have worked stitches round three sides of your piece of knitting creating a small curve that forms the centre back of the shawl that you will work outwards from.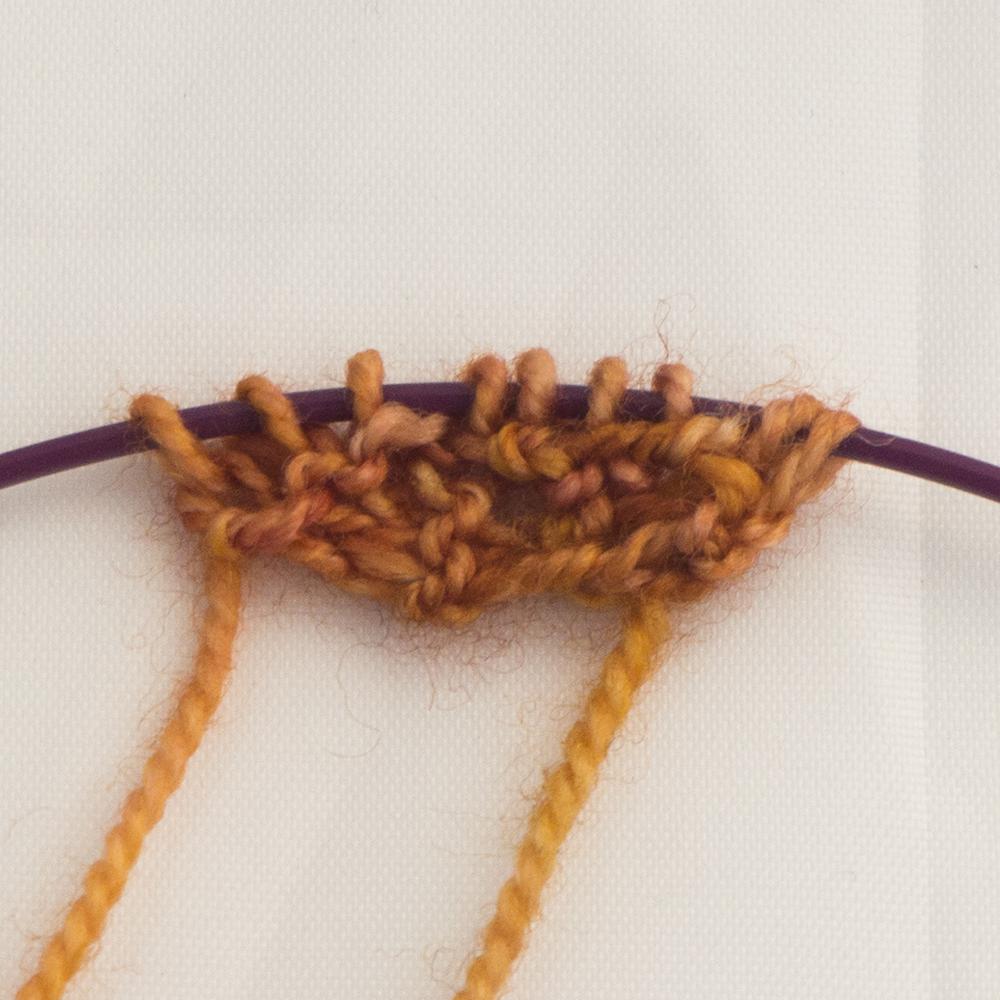 Stitch markers
The pattern sets the position for three stitch markers. It may feel quite crowded to have three markers when you only have 9 or 13 stitches.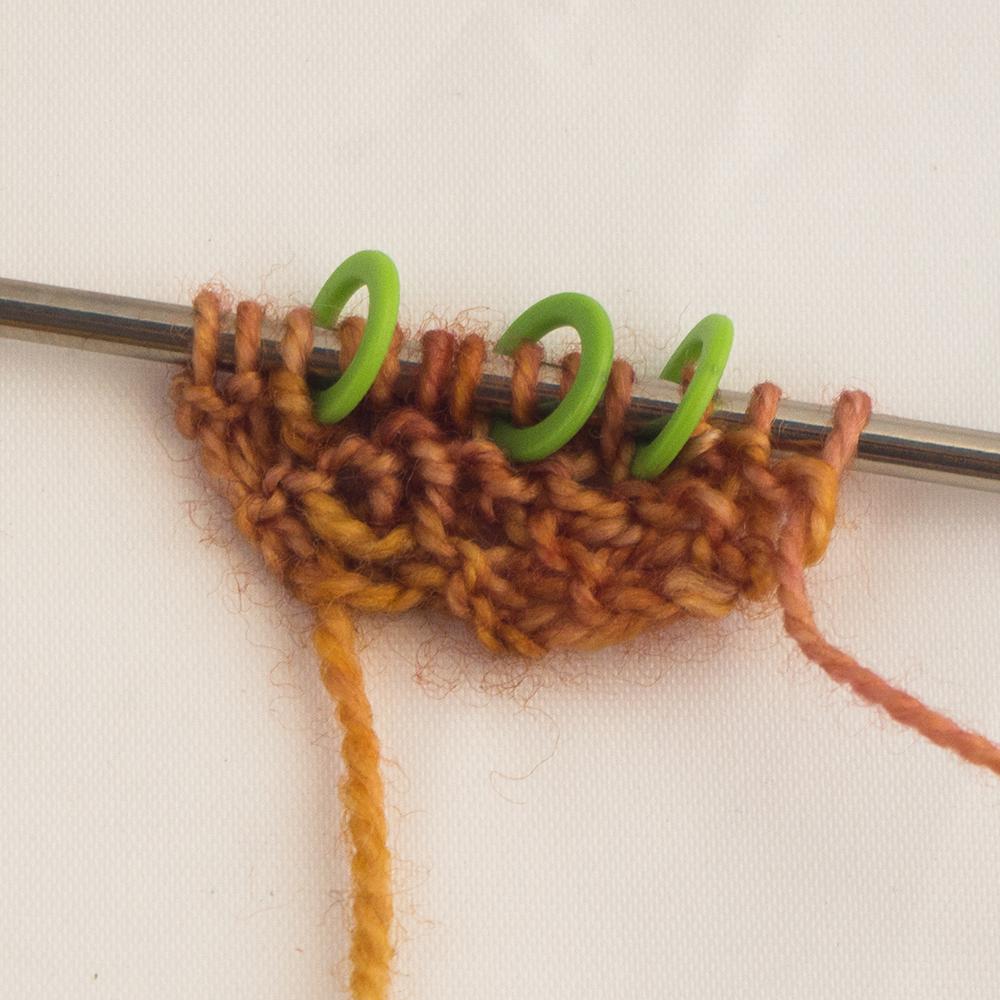 However, these three makers help you put the yarn over increases in the right place and rapidly become more spaced out because the yarnovers add four extra stitches on every right side row which is what makes the shawl grow.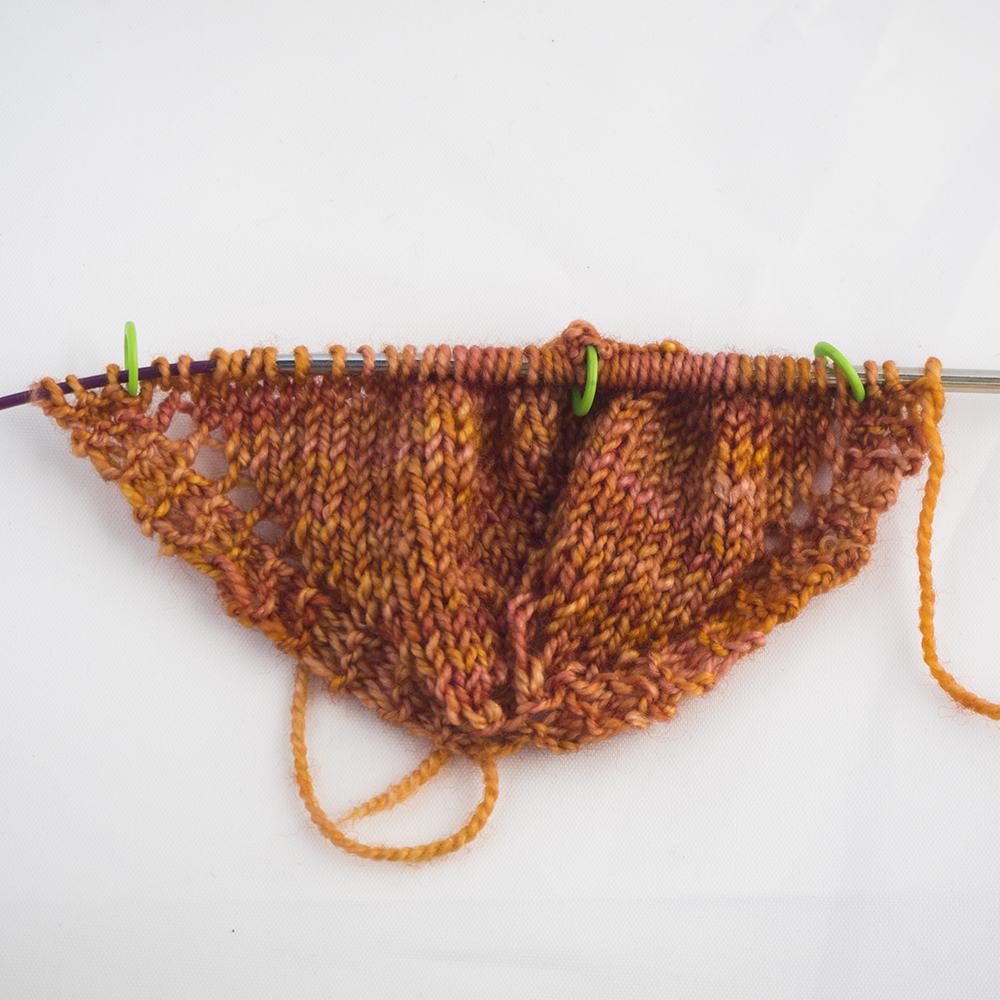 Checking your shawl shaping
I recommend using a circular needle for this shawl even though you are working in rows. This is partly because you end up with a lot of stitches but also because it is difficult to see the shape of the shawl developing and to check your yarnovers are correctly lined up.
Here the start of a shawl is spread out along the cable of a circular needle. This allows us to see that the garter stitch sections at each end in fact create a single long side of the shawl and that the centre set of yarnovers create a spine down the centre of the shawl to the final point.
As your shawl grows the shape will become more obvious and it is important that your yarn overs always line up.