Rowan Designer Q&A's - Sarah Hatton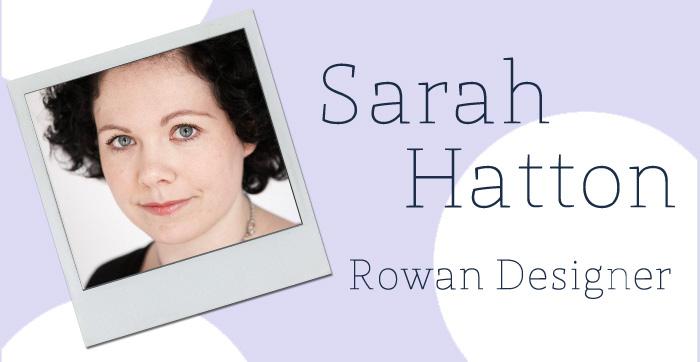 Sarah Hatton is a well known knitwear designer for Rowan. You will often see her name against many of the beautiful garments in the Rowan bi-annual magazine and in and amongst their fantastic array of pattern books. Sarah has an ever growing selection of books featuring solely her designs, always knitted in Rowan yarns. Her designs are aimed at all levels of knitter from beginners to the more advanced. Not only does she design fabulous patterns Sarah is also a Rowan consultant and teaches many different workshops. We are very excited to be holding Sarah's 'Understanding Lace' workshop here at the Craft Barn in June. There are still a few places left if you would like to book. Read all about the workshop here.

Do you ever wonder what designers get up to when they are knitting? Listen to the radio watch TV? Do they have a favourite yarn? We have asked Sarah Hatton all of these questions and more to get an insight into the life of a Rowan designer.

 

Who taught you to knit? 

Both my mum and grandma.

 

What was your first ever knitting project?

I am not sure, I suspect the classic scarf for teddy!

 

Where do you find inspiration for your designs?

I am very inspired by street style as well as the catwalk fashions.

 

What is your favourite yarn to knit with?

Boring maybe but a classic 4 ply would suit me well .

 

Where is your favourite place to knit?

I am not sure i have a favourite but it tends to be on my battered red chesterfield sofa.

 

Do you ever watch TV or listen to music when doing your knitting?

Yes I watch quite a lot of films and listen to radio 4 or 6.

 

Do you have a favourite knitting snack?

I try not to!

 

What other knitwear designer do you admire?

Martin Storey, Kim Hargreaves, Jared Flood to name but a few.

 

What / who inspired you to become a knitwear designer?

I love the fact that you control so much of the design yourself, you get to create both the fabric and the shape and there are so many way to adapt a pattern how could you not be inspired!

 

Do you have a knitted treasure? A piece that you could never part with, a gift or maybe something you have made yourself?

I have the Evening Mist shawl I designed for The Knitter issue 28 that I treasure as the knitter has done such a beautiful job, its truly a 'heritage' piece.

 

Do you enjoy knitting for yourself?

When I get the time, yes!

 

Sarah's latest books are 10 simple projects for cosy babies and Rowan studio issue 30. Below are images of Sarah Hatton's books and designs featured inside them!