Charity Knitting
Recently we had Helen, from Warrington & Halton Hospital charity in store, talking to our customers about the charity and showing the knitting and crochet projects they are currently collecting donations for. We have supported our local hospital - Warrington Hospital for quite a few years now, along with Liverpool Womens as part of our Premature Baby campaign. Three years on since Lesley set up the Black Sheep Prem Baby campaign and we are still receiving packages of hand knitted baby items generously knitted by our customers. If you do have any spare oddments of yarn and wonder what to make, then please do knit some teeny hats for prem babies or a small blanket and send them to us. Charity knitting is a great way to use up oddments whilst helping a worthy cause. Take a look at our Premature Baby page for a selection of free patterns and more information about what to make. We will post them on to either Warrington or Liverpool Womens who are always very grateful for donations in their neonatal units. Alternatively find out if your local hospital is looking for any hand knitted items and send them on.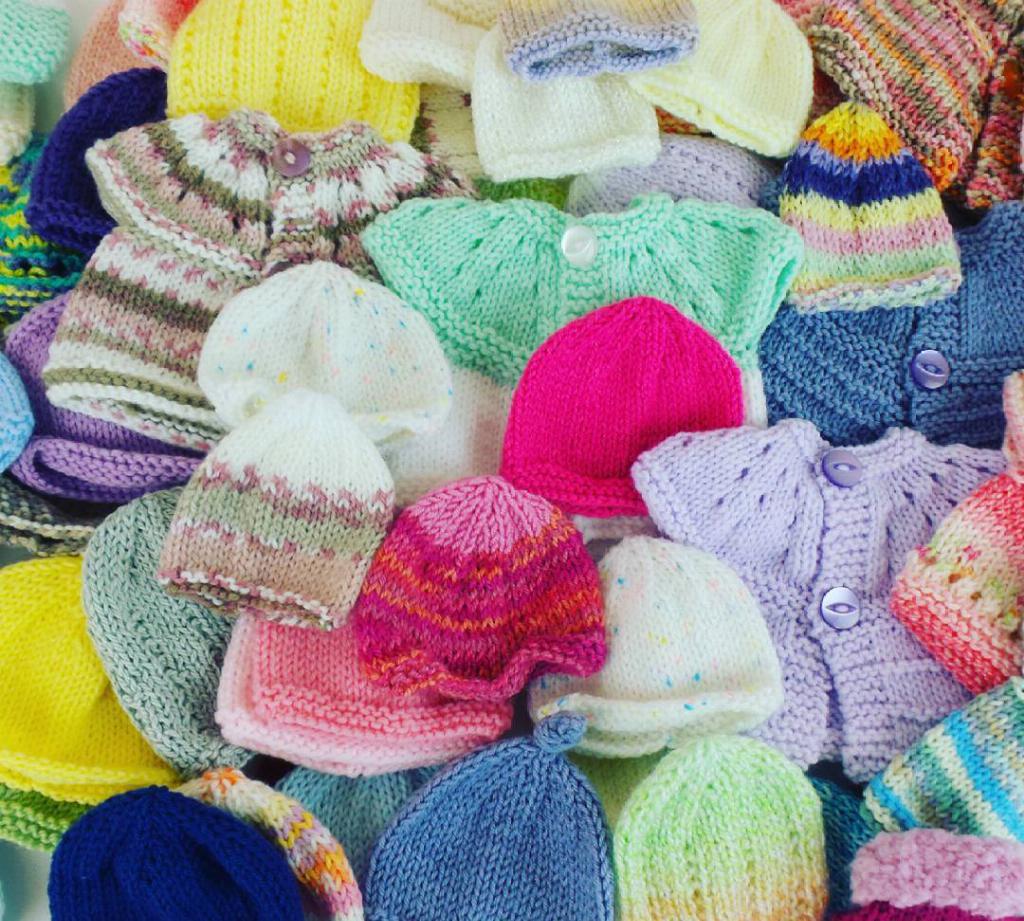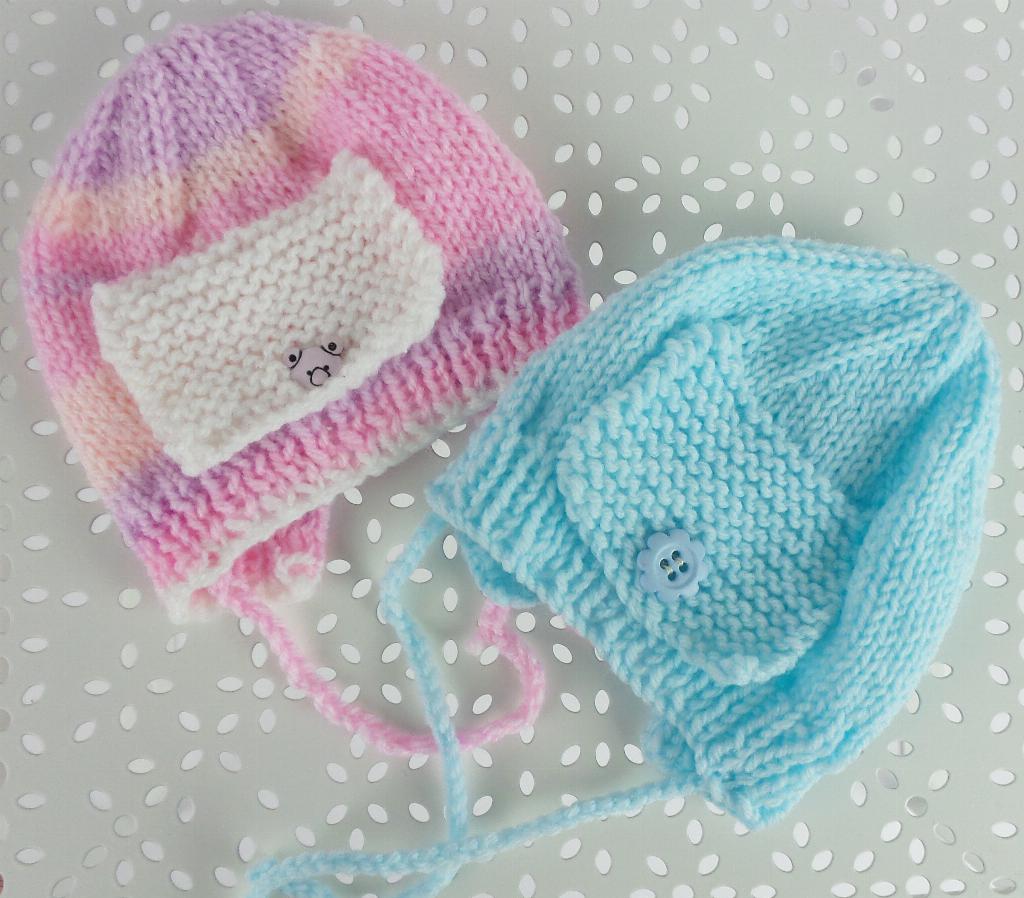 Back to Helen's visit....she brought along an assortment of hand puppets for the Knit for Hal project. Hal is the name of the mini knitted mascot to be teamed up with young patients when they visit the hospital. Find the basic Hal pattern here.
"Knit4Hal appeal gains the support of knitters all over the country who have pledged to join our knitting & crochet team that create hand knitted puppets, our vision is to be able to provide our young patients with a little something special whilst within our care, which can also act as a pleasant distraction from what can sometimes be quite a stressful time. We have received some wonderful feedback from both patients and their families informing us that the puppets have been such a welcomed gift, what a lovely idea!" - quote from the Charity team.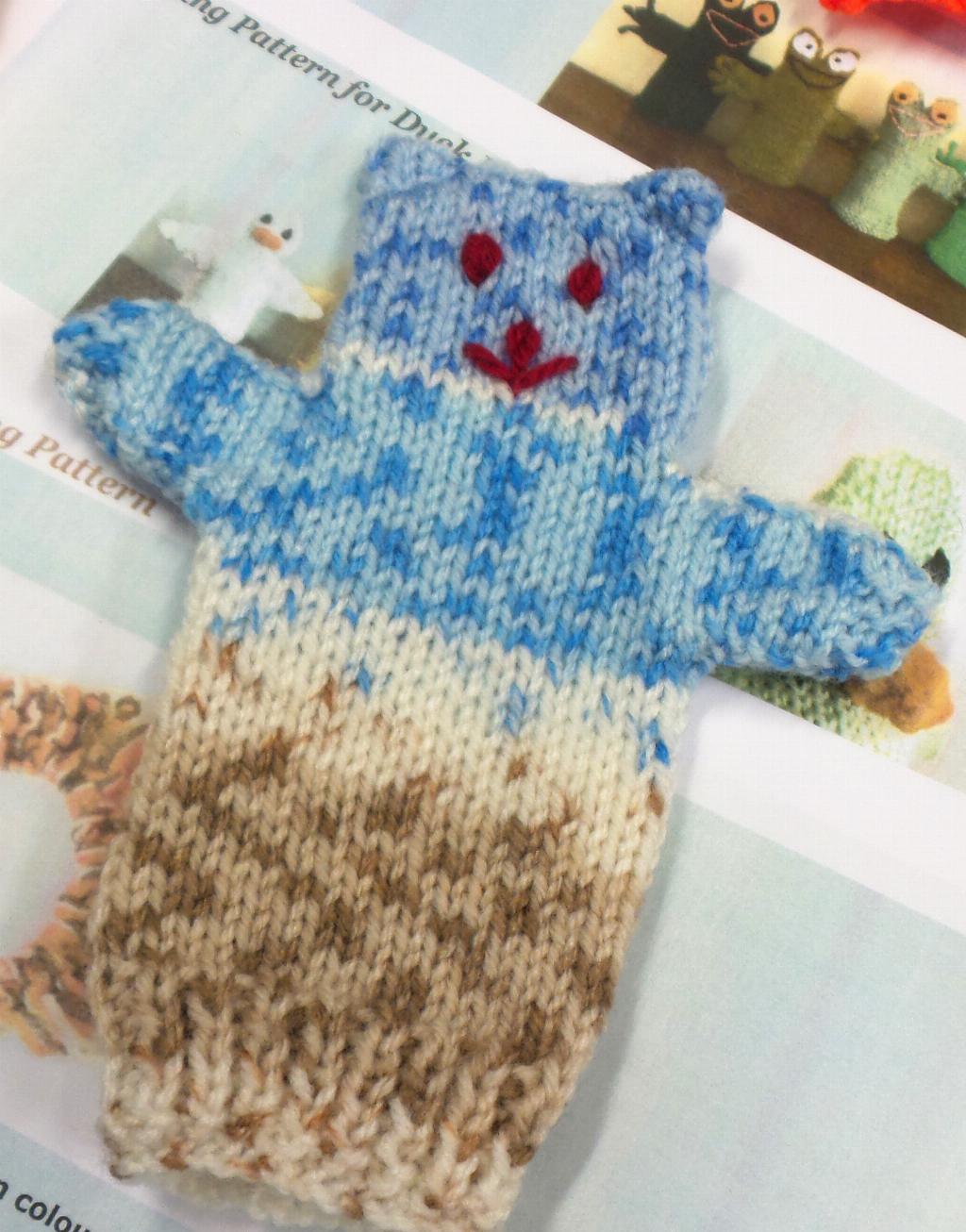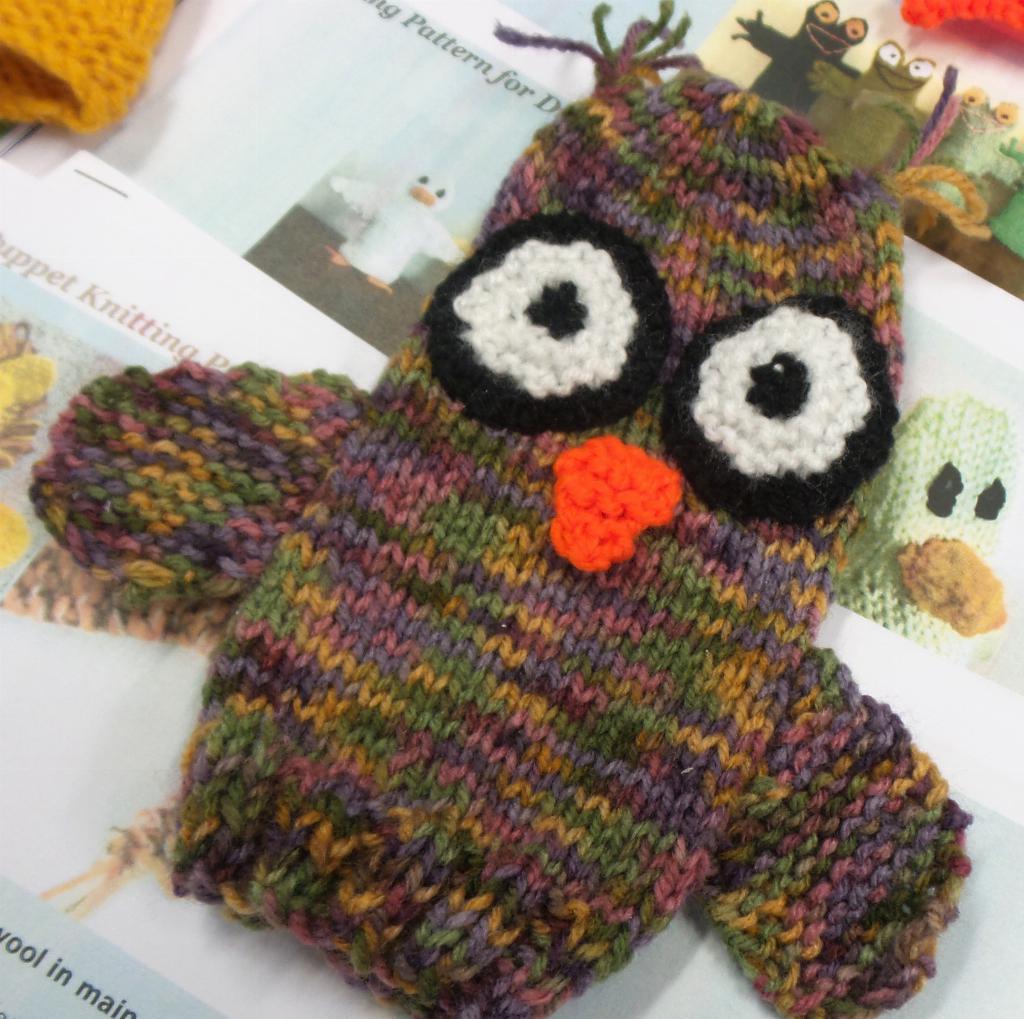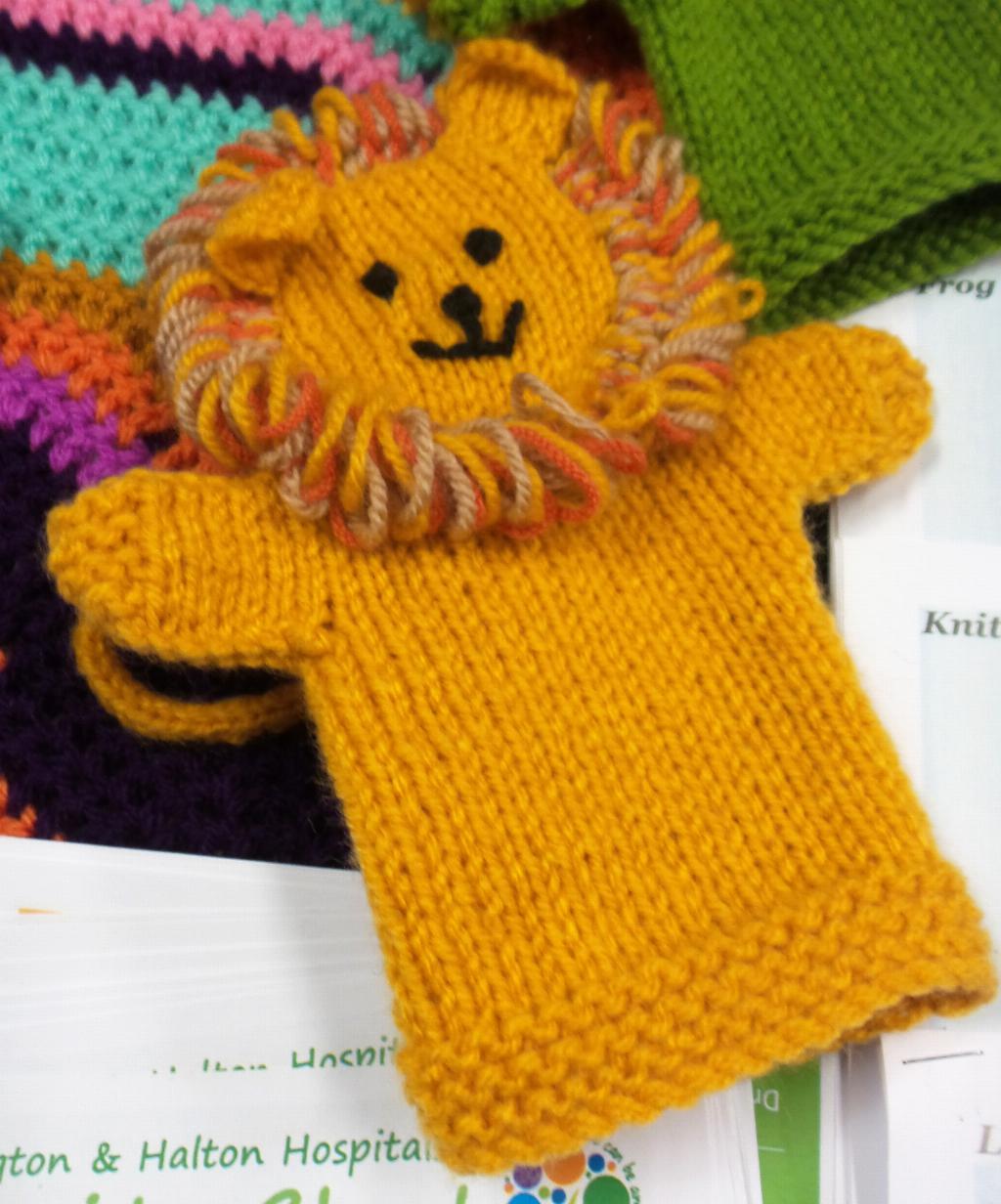 Helen also brought along twiddle lap blankets. These are designed to comfort patients with dementia. You may have heard of twiddle muffs, well the idea of the blanket is the same but in blanket form. It helps to keep the patient warm as well as having textures and other bits and bobs attached to stimulate restless hands. The blankets Helen is holding are roughly 70cm x 30cm in size. All sewn on bits do need to be secure.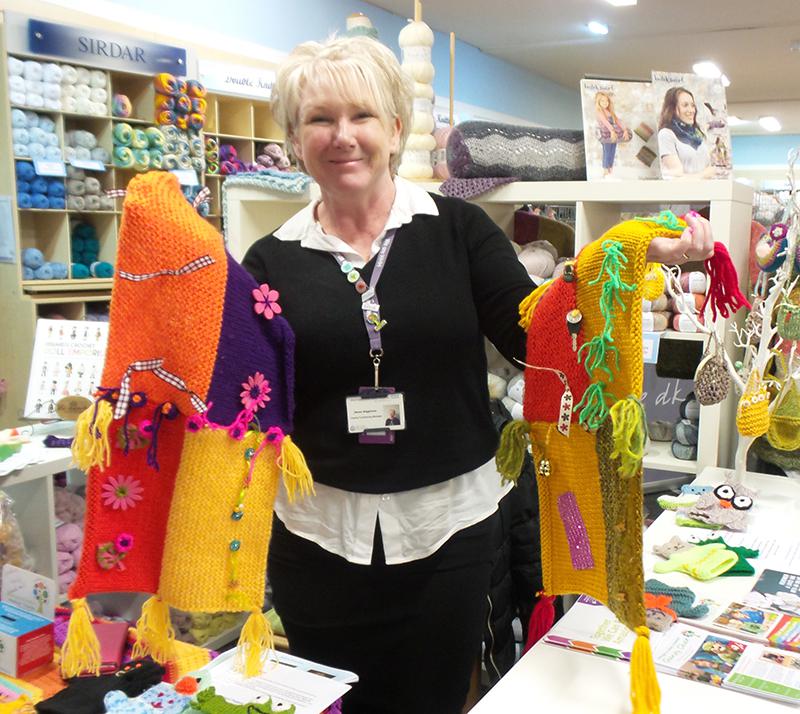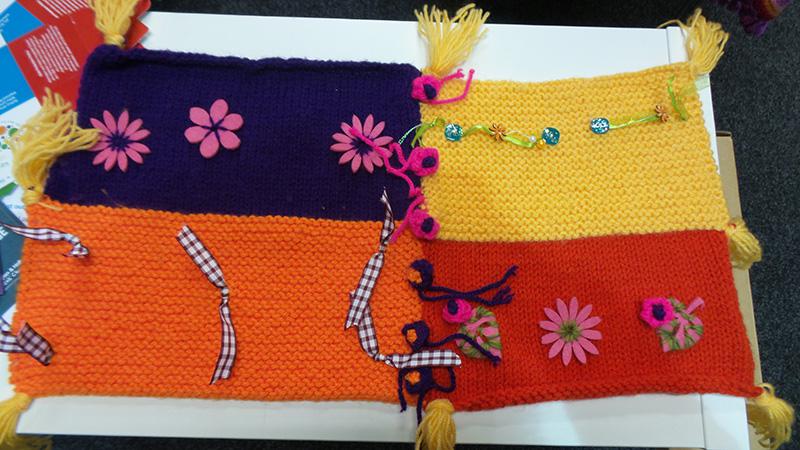 "Warrington and Halton Hospitals' Charity, 'WHH Charity', raises funds to provide additional comforts, care or experiences for the direct benefit of patients and their families beyond that which the NHS provides. With the support of our wonderful donors and fundraisers we raise money to improve patient environments, fund additional equipment/facilities and provide important complimentary services to enhance our patients' overall experience.  We can only continue our work by gaining the support of our local communities and our mission is to create as many different ways as possible to forge new partnerships and involve our supporters in ways that best suit them." - quote from the Charity team.

Find more information about Warrington and Halton Hospital Charity on their website.