Blogger of the month - May 2014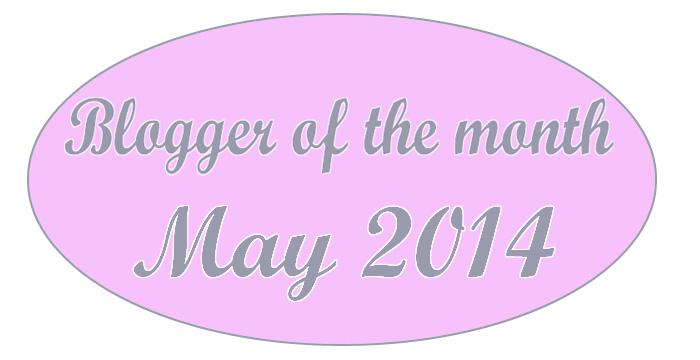 Blogger of the month is a great place to discover new blogs you haven't heard of before, or if you have heard of the blog it is a great place to find out more about your favourite blogger.

This month our blogger of the month winner (remember the chosen blogger wins a £25 gift card!) is Kristen from the blog 'Knitionary'. Kristen writes a lovely blog which always features lots and lots of colour in the form of flowers, yarn and food, when you are in need of a spot of inspiration head on over to Knitionary. Read all about Kristen's world of blogging in our Q & A below.

How long have you been blogging? What made you decide to write a blog?

I started blogging in May of 2009 and just had my 5 year blogversary and didn't even notice! I'm also coming up on my 500th post; I can't imagine what I've had to say all these years! I started blogging to make a connection with others with similar interests. I wanted to share and show off a bit too!

What is your latest WIP (Work in progress)?

I work on at least a half dozen knitting projects at any given time. A few with tiny needles and one or two that can go a little faster. Right now I'm working on the Martin Storey Mystery Afghan KAL, a Kidsilk Haze Stripe top down sweater, a v neck pullover by Sarah Hatton in Panama, Guido, a gorgeous sweater using linen stitch for my son using Rowan Revive and Goldie, from Kim Hargreave's newest book Honey. I love simple shapes using gorgeous yarn. For me, knitting is all about great fit and beautiful fabric.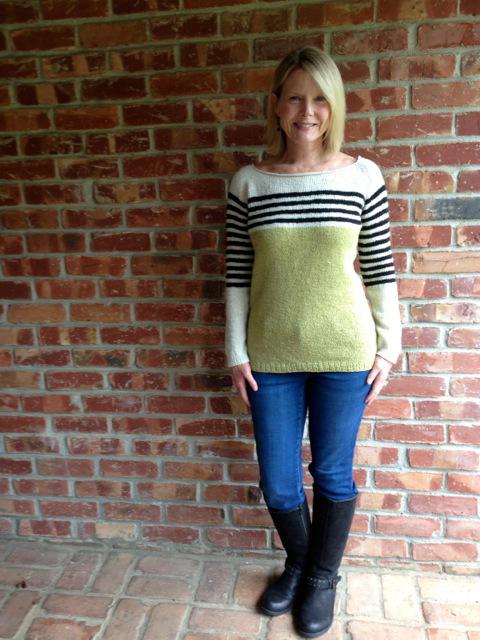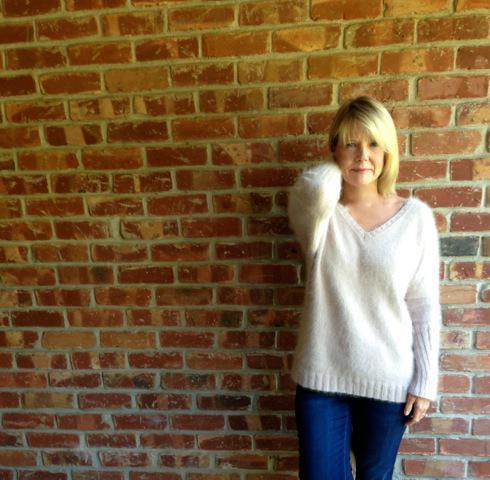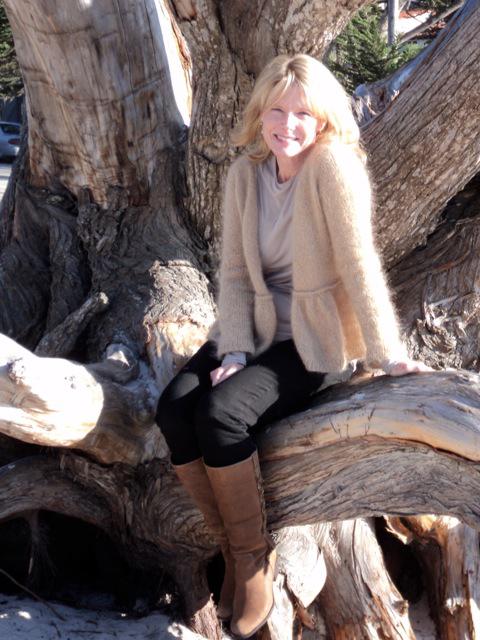 Who taught you to knit?

I'm self taught from a small pamphlet I must have purchased from a dime store. I can still remember what it looked like with a bright orange and green cover. I must have learned when I was in grade school because I remember making dolly blankets and rugs with garter stitch. There's never been a time in my life that I can remember when I haven't had a project.

Do you watch TV or listen to music while you knit?

I most often watch TV and I love old movies from the 40s. I take my knitting everywhere, seriously, I never leave home without it! If I have a few minutes in line or at the movies, my knitting is with me. If it's simple stockinette I can touch knit which is handy as it's not distracting to others in meetings, etc. Because of that, I always have several simple stockinette projects on hand that I leave by the door to grab and go.

Is there a knit project that you treasure? Made by yourself or a handmade gift from a loved one?

My favourite sweater of all time in Pearly by Martin Storey . I made it back in 2005 and it still is gorgeous. It's my husband's favorite sweater and is knit in one of my all time favorite yarns, Rowan 4-Ply Soft, now discontinued. I love that knitting holds memories. I knit Lisette when I was sitting with my father when he was in the hospital. He was pretty sick but his eyes would go from my face to my hands and finally he said, "I don't ever remember seeing you sit and not have your hands busy." That sweater reminds me of the last precious weeks with my father.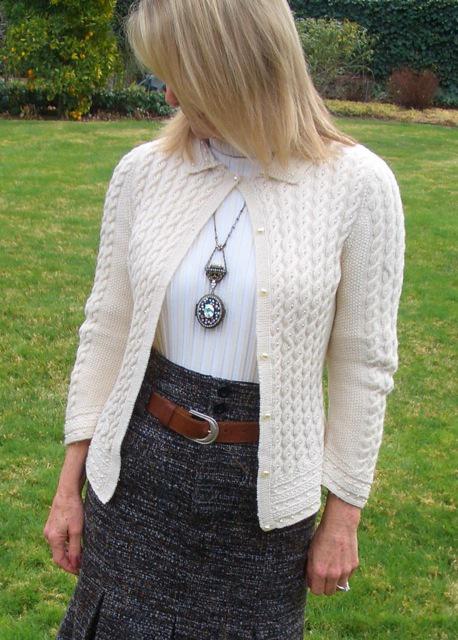 What is your favourite yarn to work with? Is there a particular brand?

My number one yarn is Rowan Kidsilk Haze. I've knit countless sweaters in this lovely stuff and always have at least one project going using it. I miss it too much if I don't! I'm a diehard Rowan fan and for the last 10 years have used it almost exclusively. I'm always happy with their quality and the beauty of their yarn. All of my favorite yarns are Rowan; beside KSH I love Felted Tweed, Wool/Cotton 4-Ply, Kid Classic and now Pure Linen and Revive. Because of my Rowan love, I applied and was accepted as one of 14 Rowan Ambassadors chosen from around the world. We are mostly bloggers and all of us are "champions of the brand". At the end of June we will be meeting at the Rowan mill in Holmfirth, England to meet each other and the Rowan designers and brand manager. I am absolutely giddy about the trip and am counting the days!

Do you follow other blogs? If so which ones?

I love Slim Paley, she has one heck of a life. I also read French Essence by Vicki Archer. She always manages to have some fashion and beauty tips that I can ease into my life. If I had to choose one craft blog it would be Posie Get's Cozy, it's a feel good blog. For home decorating I would choose Tone on Tone, that guy has style! I love blogs!

What other past times do you enjoy?

I love to garden and entertain. Now that my husband is retired he helps out with both. Where we live in California we can grow a garden just about all year long. When we entertain, whatever is growing in our garden is featured in our menu. I love to set a beautiful table and over the years have collected a good selection of linens and more dishes and glasses than I'd care to admit! I often blog about my parties and my garden.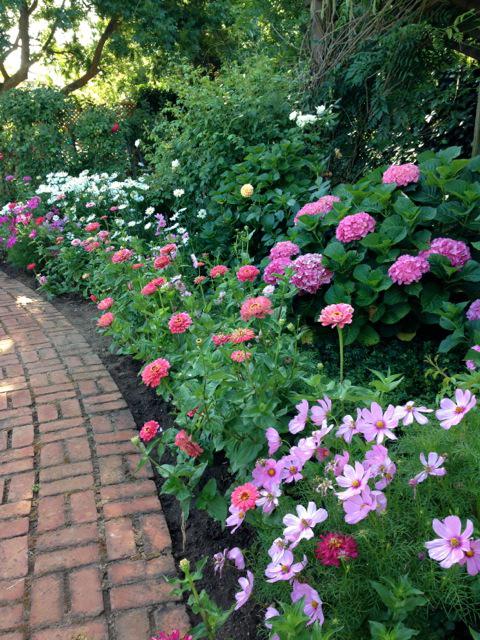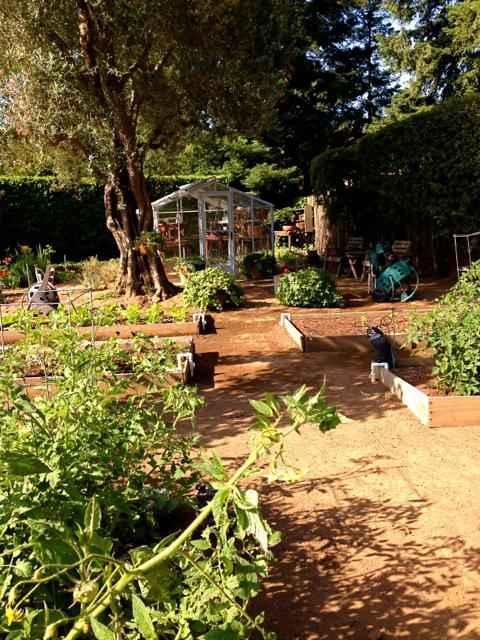 What is your favourite item to knit? And why?

I've just started designing doll clothes to fit the 18" doll. I have three patterns now and offer them for free in the patterns section of my blog. I have more ideas and can't wait to get the patterns written up. It's been a lot of fun and I've had good feedback. It's been good practice in pattern writing.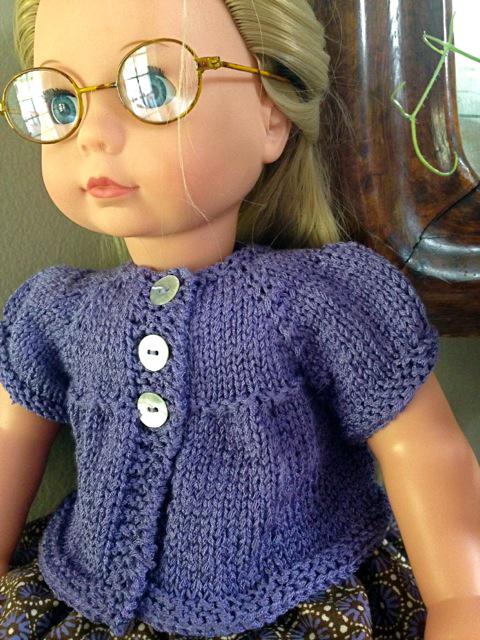 Do you have a preference when it comes to choosing your crochet hooks?

I love them all. I switch around from wood to metal to bamboo to carbon. I am passionate about choosing the right needle for each project and wrote a blog post on that subject. I think the right needle can tame just about any yarn.

Once again congratulations Kristen and thank you for taking the time to answer our questions.