Temperature Blanket
What is a temperature blanket?

 

A blanket that you knit or crochet with the shades chosen dependent on the temperature outside each day. Choose a selection of colours and create a key with the shades coordinating to temperatures. Depending on how many shades you want to use it can be a good idea to go up in 2 degree increments, e.g. 5°-6°c. Every day knit or crochet a row in the corresponding colour to the temperature that day. By the end of the year you will have a fabulous, unique blanket!

The idea of a temperature blanket is quite a fun way to crochet or knit. If you love stripes but never know what shade to choose next, then the temperature blanket will choose it for you. Allowing your blanket to evolve with your chosen colour combination. Another option is to make a temperature scarf. This probably wouldn't last a whole year, but depending on the finished length you wanted and thickness of yarn used then you could do it over a couple of months or take a weekly average. It is completely up to you, you make the rules with a temperature blanket / scarf.

This post was inspired by the lovely Maria, customer and ex-colleague of Black Sheep Wools. Maria was our Customer Services Manager for many years, always on hand to help with queries and an avid knitter and crocheter herself. She posted a photo of her completed temperature blanket for 2018 in our Facebook Make Along group (if you haven't already, please do join us and share your makes). It was such a beautiful blanket we had to share it on social media. The adulation this blanket was met with sparked the idea for a blog post.
Maria chose a range of blues and purples in Stylecraft Special DK (White, Parchment, Silver, Duck Egg, Storm Blue, Sherbet, Cloud Blue, Bluebell, Wisteria, Parma Violet, Mushroom, Pale Rose, Soft Peach, Apricot, Vintage Peach, Shrimp). This is knitted in garter stitch with 4mm circular needles, 308 stitches.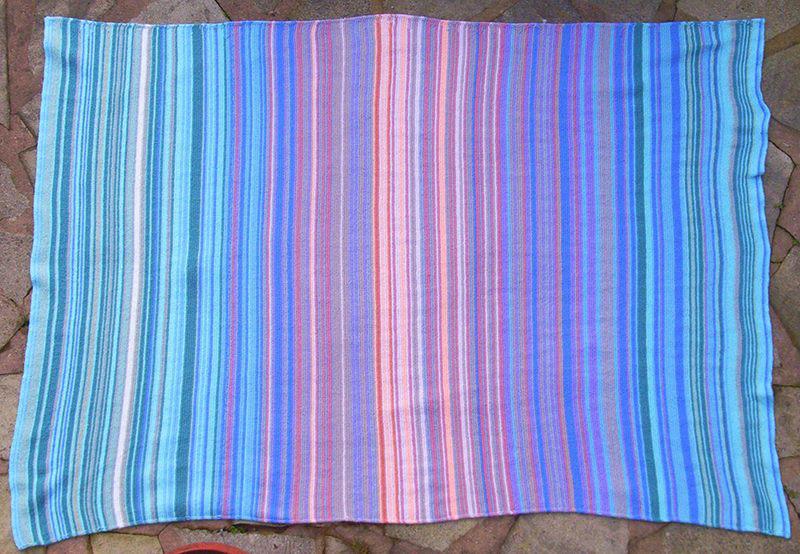 If you are planning to make your own (even though we are a month into the year) search on google for temperature blankets and you will see some fine examples. Take a look below at some yarn suggestions that you will have a varied colour choice.

Temperature Scarf Yarn Ideas

Scheepjes Namaste - a chunky yarn that's a blend of wool and acrylic. A mix of pastel and bright shades to choose from.

Baa Ram Ewe Pip Colourwork - there are 15 shades of this 100% British wool 4ply to choose from.

Rowan Baby Cashsoft Merino - a great selection of shades to make a beautifully soft scarf, with a touch of luxury.

Temperature Blanket Yarn Ideas

Sirdar Snuggly DK - not just for babies this yarn has plenty of shades to opt for. Making a machine washable blanket.

James C Brett Double Knitting with Merino - this yarn doesn't have a broad range of colours like some of the others, but there is enough to choose from. It is a really cosy yarn and lovely to work with.

Stylecraft Bellissima & Stylecraft Bambino - mix and match with these two treasures from Stylecraft. The composition is the same, which gives you that few more colours to choose from.