Designer Q & A's - Dee Hardwicke
It was sometime last year that I first spoke to Dee Hardwicke over the telephone. We discussed the possibilty of her coming to the Craft Barn in Warrington for a visit. It was at that point I realised what a hard-working, super creative lady Dee Hardwicke is. When you visit Dee's website you are instantly welcomed with an abundance of exquisite design. Dee is not only a knitwear designer, publishing two books - A Story in Yarn and Colourwork Knits, she is a talented water colour artist. Creating designs for homeware, stationary and more. I bought a calendar last year from the National Trust, featuring lovely woodland animals, when I got it home I discovered it was designed by Dee Hardwicke. It's not just at a yarn shop you will come across her designs!

Our exciting news is that Dee will be joining us this month for a Designer Trunk Show on Friday 23rd from 3pm - 5pm and a sell out (sorry) workshop teaching Intarsia Design Knitting on Saturday 24th. The trunk show is free to attend. Dee will be signing copies of both books, and this event will be a unique opportunity to see some of the original watercolour sketches, templates and knitted swatches behind Dee's beautiful designs. Dee will also be on-hand to talk about her inspiration and to help you select palettes for your own quilt or knitwear projects based on the stunning collection of Rowan yarns to be found at Black Sheep Wools. You're bound to feel completely inspired to pick up your knitting needles! If you aren't sure of the Craft Barn's location pop over to our website for details.

Dee has kindly answered a designer Q & A for us with a selection of inspirational photos. Grab a cuppa and have a read below.




You have a very distinct style in both your knitting and painting designs. What would you say is your main source of inspiration?






I find endless inspiration in nature. I live in Wales, between the Brecon Beacons and the Black Mountains, so I'm surrounded by the most beautiful countryside. No two days are ever the same, and I love the shapes and colours that emerge from season to season and from year to year. I always have my sketchbook to hand so that I can paint the world around me, and it's often something as simple as an autumn leaf or a tiny flower which plants the seeds of an idea in my mind. I only have to step outside to feel inspired.





Thank you! My designs begin with the watercolours and drawings that I make in my sketchbooks. I then develop them into designs for specific pieces, laying out different yarns alongside my watercolours to help decide on palettes, then creating charts and knitting test swatches. When I visit for my Designer Trunk Show on 23rd November, I'll be bringing some of the original watercolours and swatches for the designs which appear in my books so everyone will be able to see how the process evolves. The knitwear itself is inspired by the shapes I like to wear, such as roomy boyfriend sweaters and fitted cardigans, and I decide which yarns to use depending on the specific design. For example, yarns such as Rowan's
Valley Tweed
are ideal for 'drawing' with and they're perfect for creating detailed motifs such as the pretty butterflies on my Pom Pom Shawl and the design on the Circle Flowers Sweater featured on the cover of 
Colourwork Knits
.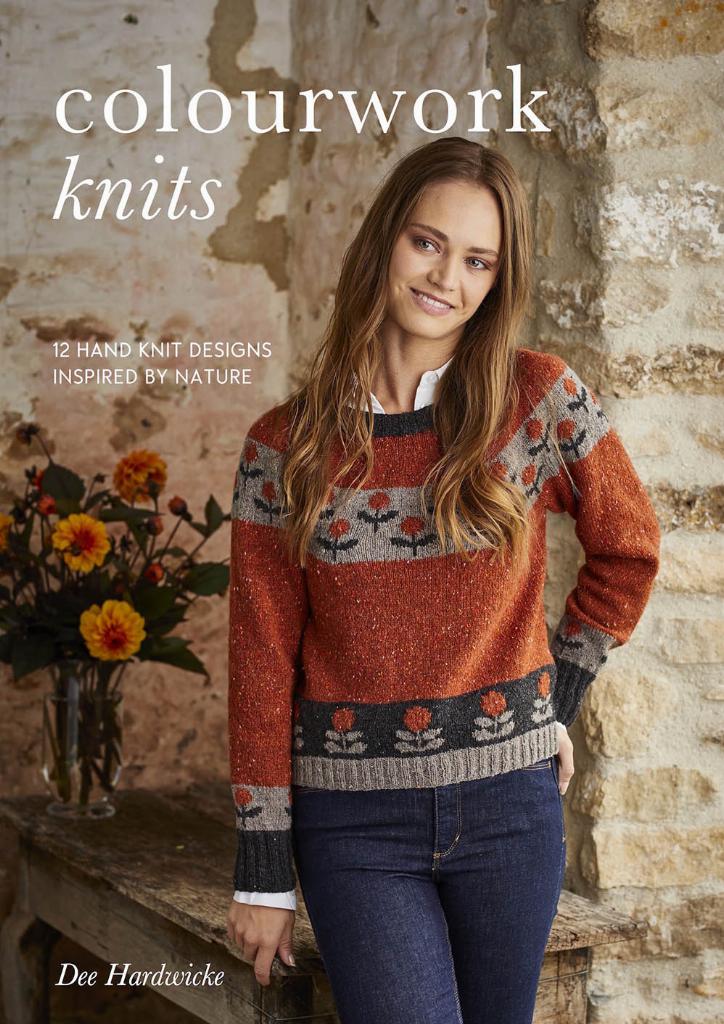 Scarf from Dee Hardwicke's book - Colourwork Knits
What is your favourite Rowan yarn to work with?
I love working with Rowan's
Felted Tweed
and
Valley Tweed
since they're both perfect for colourwork, and I'm very excited about the new
Cashmere Tweed
, which is a blend of extra fine merino and cashmere. It's incredibly soft and offers amazing depth of colour. It's also a really forgiving yarn for colourwork and I'm using it in designs for my next book. I can't say too much about the book at the moment but I'm very excited about it and I'll be revealing more on
social media
over coming weeks.
Is there a particular shade that you are drawn to every time you start a new design? Or a palette of shades?
I work really instinctively when it comes to choosing palettes, and I love experimenting with different colour combinations. When I'm hosting workshops, I always encourage people to play around with colour and to see what palettes they're inspired by, since there's no right and wrong. It's amazing how an unexpected dash of colour here or there can transform a familiar palette; even now, I constantly feel that I'm discovering different ways of using colour.
Rowan's yarns
have such beautiful, natural tones and the colours are very much those that you'd find in the landscape, from deep berry reds to rich autumnal oranges and fresh spring greens. Rowan also regularly launch limited edition ranges and capsule collections so there are always lots of exciting new palettes and textures to work with from season to season. I feel inspired just thinking about it!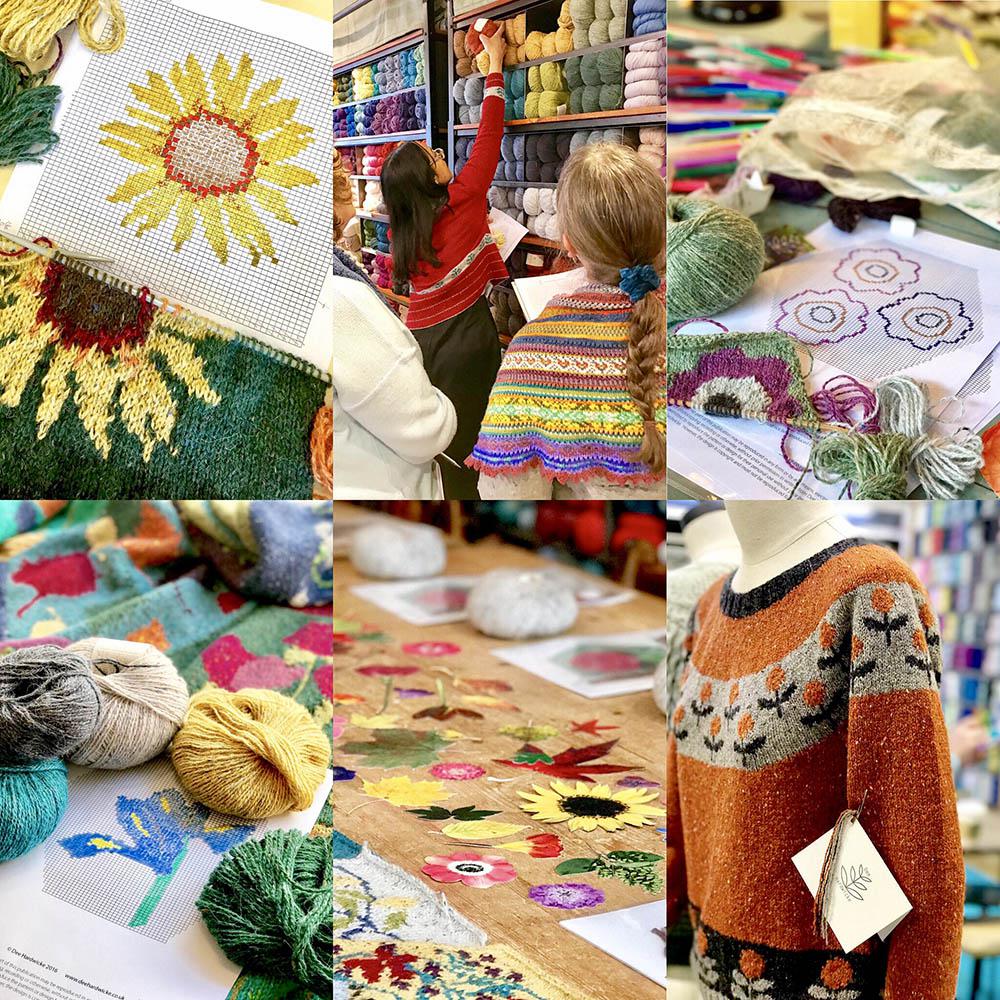 Being a designer as a full time job, do you ever get time to enjoy knitting for pleasure?

I'm really lucky that because I've always been very creative, being a designer never really feels like work since it's more a way of life. Some of my earliest memories are of making little outfits for my dolls and of drawing in the garden, and I'm always happy when I'm knitting … whether that's in my studio, or tucked up at home by the fire with a piece of homemade cake to hand.




Can you remember the first thing that you ever knitted?


I can! It was a sweater, and I was so inspired by the yarn I was knitting it with that all sorts of variations to the pattern and colour-scheme kept popping into my mind. Of course, I really didn't have the technical knowledge to match my ideas and so the result was somewhat mis-shapen … but very loved!


 

Do you have a knitted / crocheted treasure? A piece that you could never part with, a gift or maybe something you have made yourself?


The quilt that I knitted for my book 
A Story in Yarn: How to Design and Knit an Intarsia Heirloom Quilt
 is my most treasured knitted piece. It's autobiographical and is inspired by some of my most special, happiest memories, which I talk about in the book. Judging by the lovely messages and photographs I get from people as far afield as the States and Australia, their versions of the quilt have become incredibly special to them too. The fact that my quilt was the starting point for this somehow makes it seem even more precious.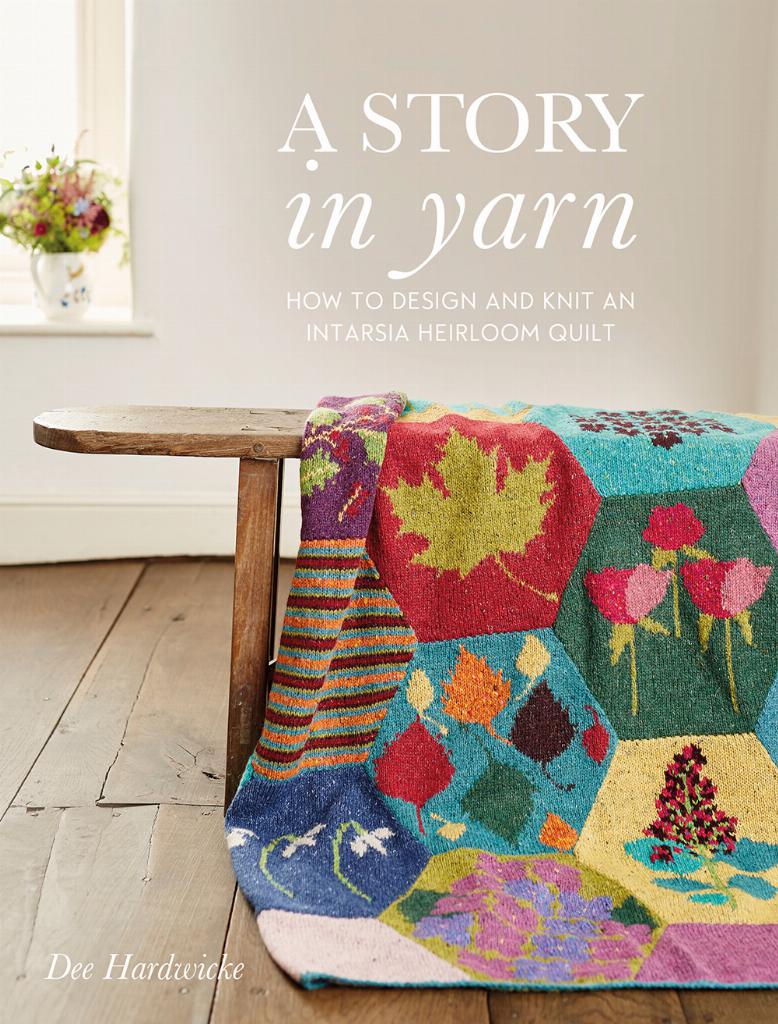 With all of the fabulous designs featured in your books there must be one, two, maybe even more that you would love to wear / have in your home? We would love to know your favourites.
I really do love all of the designs but the Pom Pom Shawl is particularly versatile and can transform an outfit in seconds, adding a glamorous touch to jeans and a sweater, or a welcome splash of colour to a black dress. I've had so many compliments for it, and I know that the shawl is one of the first things that many people have knitted from 
Colourwork Knits
 (it's an easy pattern to knit, too). My Boyfriend Scarf and Boyfriend Sweater are perfect for bundling up in on a chilly day, and they're made from Rowan Alpaca Soft DK so they feel really luxurious to wear. I'm also rarely without my Dee Motif Cardigan since its fitted shape is so flattering and it's knitted in a gorgeous red (Rowan Valley Tweed in Wolds Poppy).
[caption id="attachment_12702" align="aligncenter" width="450"]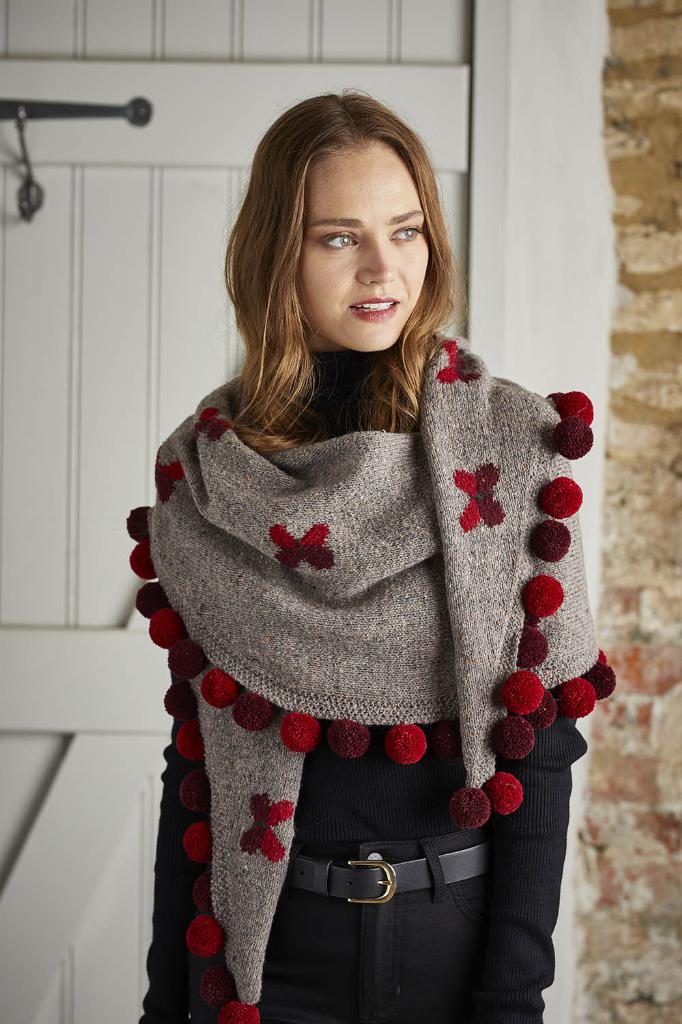 Dee Hardwicke Rowan yarn garment[/caption]


What delights will you be sharing with us at your Designer Trunk Show on 23rd November?

I'll be displaying a selection of garments from Colourwork Knits, including the Dee Motif Cardigan and Pom Pom Shawl, although in view of what I've just said above, I may well be wearing them on the day! I'll be bringing the original watercolours which inspired designs from the book too, as well as knitted swatches, so everyone will really be able to get an insight into how a design evolves. I'll also be bringing my intarsia quilt and some of the beautiful flower and leaf templates and charts used to create it. The event will be a wonderful opportunity to chat to people about the design process and, I hope, to inspire them to get knitting!


What are your creative plans for 2019? Any new knitting books on the horizon?
Very excitingly, I have plans for two new books, one a collection of really wearable knitwear in beautiful colours, and the other focusing on interiors. I can't say too much at the moment but I love social media –
Instagram
,
Facebook
,
Twitter
etc – as a way of giving people a behind-the-scenes look at what I'm working on so there'll be lots of clues over coming weeks and months! 
www.deehardwicke.co.uk
 / @deehardwicke