Blogger of the month - January 2015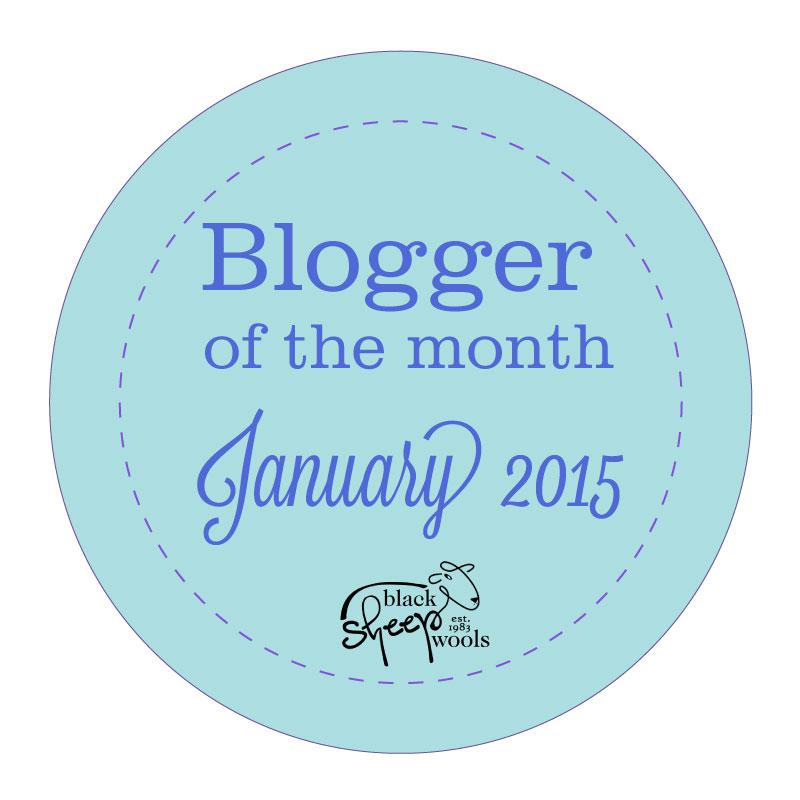 We are pleased to announce our very first Black Sheep Wools Blogger of the month for 2015. And the award for January 2015 Blogger of the month goes to...The Patchwork Heart.
A beautiful blog written by Heather Leal, bustling with colour and tonnes of crochet inspiration. Every post includes lots imagery to make you reach out for your crochet hook.
For the non-crocheter, it makes you want to learn, as soon as possible!  Heather has answered our blogger questions and sent over a snippet, of just some of the tempting photos featured on her blog. Enjoy reading and don't forget you too could be our next blogger of the month.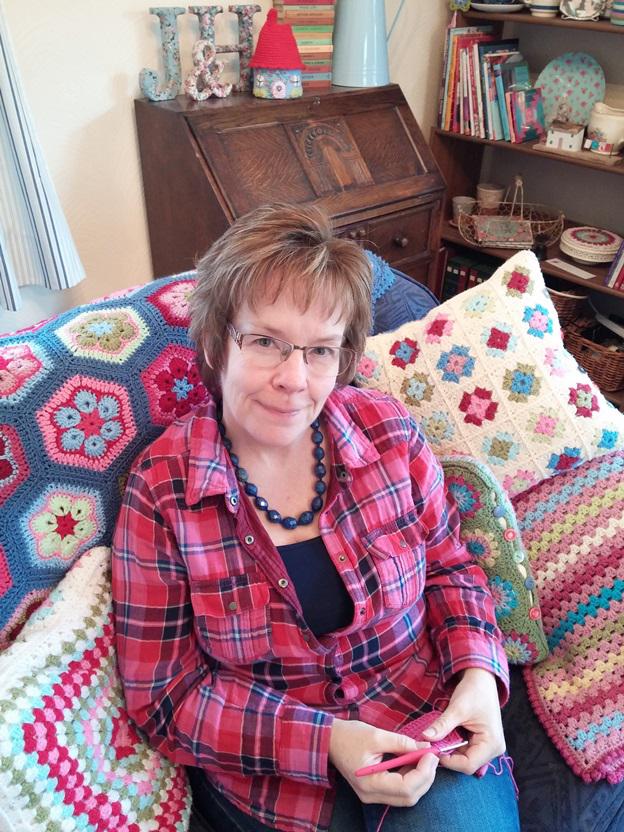 Who taught you to crochet?

I was taught to crochet by my Mum as a child and remember making granny squares and my first blanket as a teenager. However it is only in the last 4 years that I have really taken my crochet seriously, and it has now taken over my life!
Where do you find inspiration for a new project?
I am a blogger and have a busy Facebook Page and Instagram feed. I get much inspiration from other crochet artists in these communities and I am often to be found on Pinterest too! I choose the pattern first and then enjoy choosing colours from my stash.
What is your latest WIP (Work in progress)? Do you have a photo?
Currently I am working on 2 blankets. I like to have a few projects on the go so I don't get bored with a pattern or the colours. I find it increases my productivity rate if I can change from 1 to another. I am nearing the end of a bright coloured flower blanket Stylecraft 9090.
It is join as you go so getting rather large and definitely too big to take out! My 2nd blanket just beginning is a starburst flower blanket which is very portable at the moment. I have just spent a lovely afternoon planning the colours for round 2 of each circle.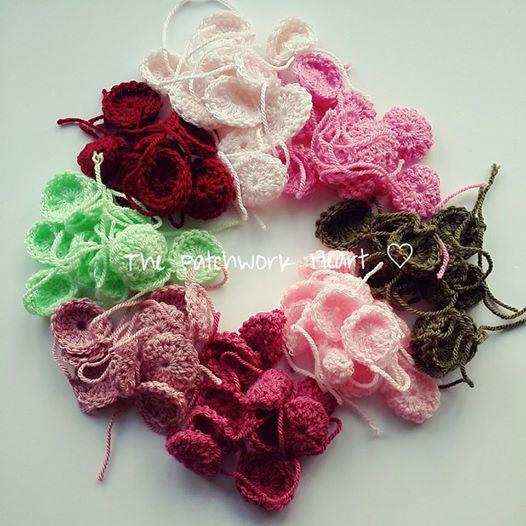 How many projects do you have on the go at one time? Do you like to vary between different crafts?
I usually have a minimum of 2 crochet projects on the go for day to day work and in my school holidays I enjoy sewing aswell.
Who do you crochet for?
I began 4 years ago by crocheting for myself and gradually crochet took over my Facebook page. I have had many lovely customers worldwide from my blog and Facebook. Nowadays I am changing the emphasis of my business to become a place where I can share and inspire others and I am currently enjoying working with magazines and yarn companies. In the near future I hope to run classes to teach people how to crochet and courses for learning new skills.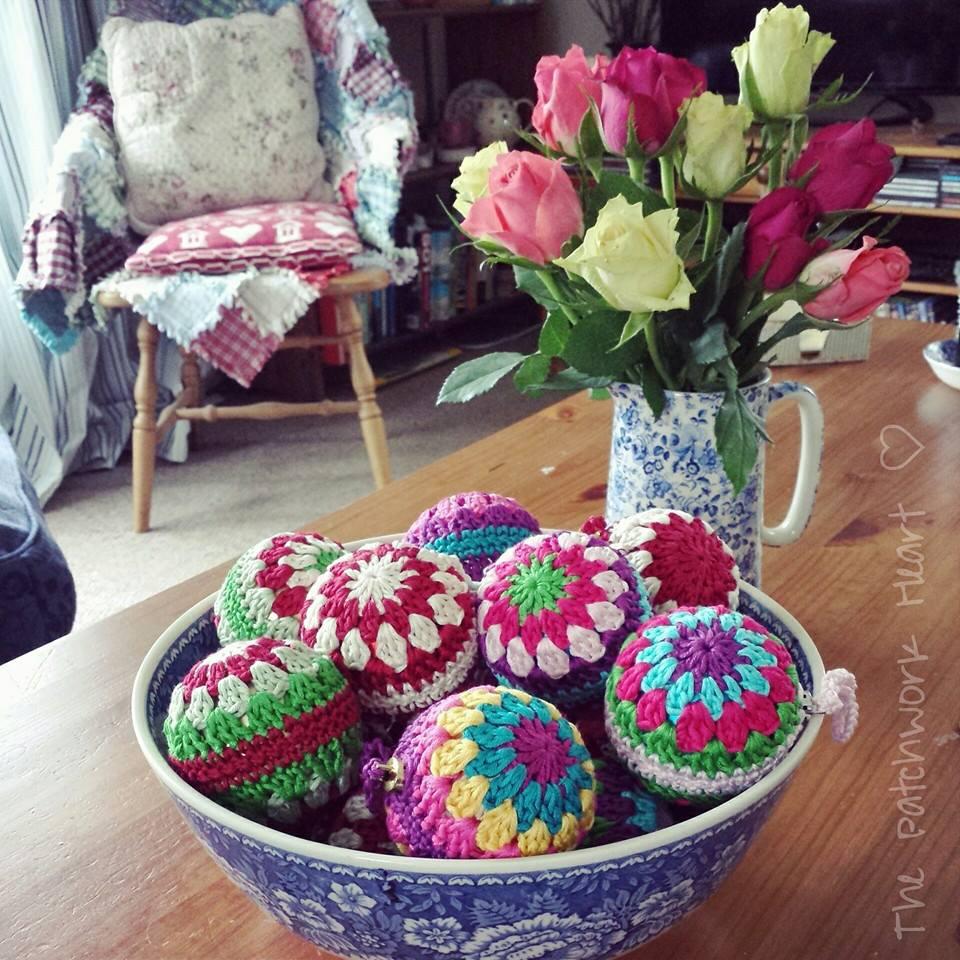 Do you watch TV or listen to music while you crochet?
My favourite way to crochet is in peace and quiet on my settee snuggled under a blanket or in bed! My life is extremely busy as a teacher and crochet time is precious to me!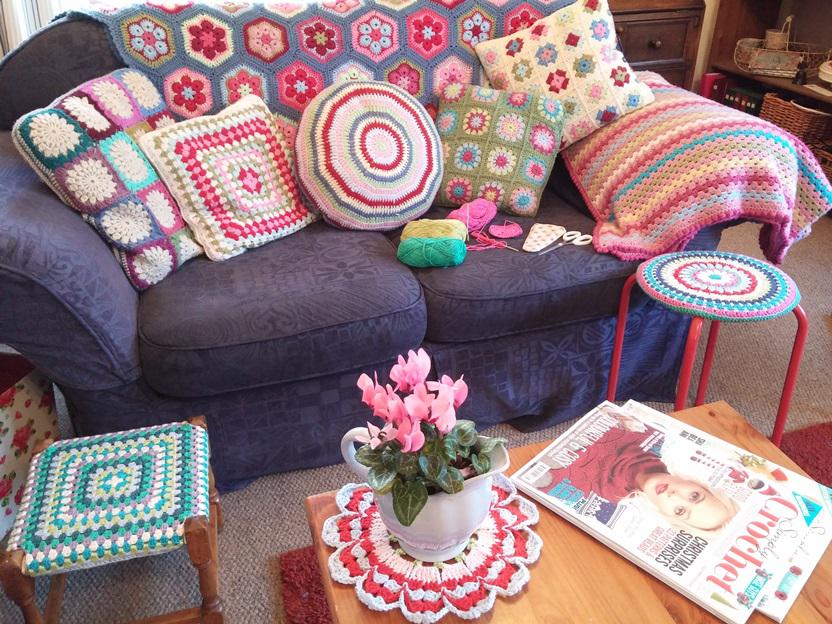 When yarn shopping are you always drawn to a certain colour?

When making items for myself for Patchwork House I am drawn to a colour palette of red pink blue turquoise and green. I do keep in stock though most colours in the Stylecraft range ready for customer orders.


The same goes for fabric really, are there certain prints that always catch your eye?
I'm a lover of florals, anything Cath Kidston or vintage gets my seal of approval.
What is your favourite yarn to work with? Is there a particular brand?
My favourite yarn for blanket making is Stylecraft Special DK for its affordability and washability. It is really soft and snuggly and comes in an amazing 60 shades. For mandalas, bunting, brooches and Christmas decorations I have recently been enjoying Rico Cotton Essentials DK.
Do you have a favourite crochet snack?
There's often a mug of something hot when I'm hooking and one of my trademarks is matching my mug to me crochet! It's the little things in life that make me happy!
Do you read any craft magazines? If so do you have a favourite?
Favourite magazines at present are Inside Crochet and Simply Crochet.
Do you have a favourite project?
I have just finished a special blanket for my daughter to take away to University. This was a real pleasure to make. She is a textiles student and was very interested in designing her blanket. She chose 28 colours of Stylecraft Special DK and The Circle of Friends pattern by Priscilla Hewitt. This was a joy to make. Each round of the large 18cm squares was made in a different colour and the pattern has a lot of texture. I joined the squares using a join as you go flat braid join which adds yet even more texture.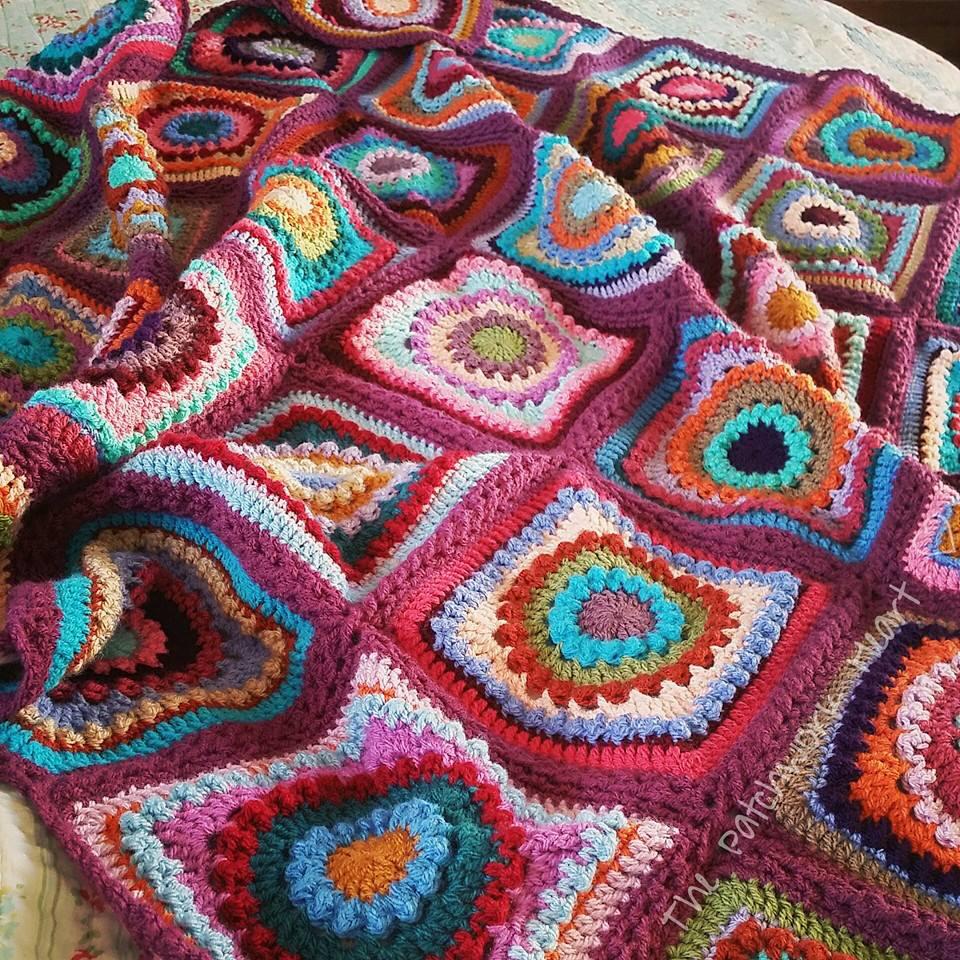 What other pass times do you enjoy?
I like to sew,patchwork and free motion machine embroidery are my current pleasures.
Where do you store all of your yarn and fabrics?
Since my eldest son left home I am very fortunate to have a craft room. My wonderful husband filled the built in wardrobe with shelves for my fabrics and I have free standing shelves for my yarn boxes.

Heather has been featured in this month's issue of Simply Crochet magazine (issue 28) in an article all about tackling your WIP's.