Blocking your knitting or crochet
Blocking is something that we are all familiar with as a knitter or crocheter. Even if it is just seeing the word pop up at the end of a pattern and wondering, how do I do that? What is the best way? Others may have tried and tested methods for finishing off their latest project. Personally I have a habit of ignoring the concept of blocking until it is completely necessary, at which point I bring out some rather heavy books sandwiching my knit or crochet for a day or two, possibly not the best method, but an attempt nonetheless. Not all projects require blocking; most patterns will suggest whether or not it is necessary on the pattern. However, lace projects need blocking as the stitches need easing into shape to show the definition of the design. It is also down to your own opinion and the finish you wish to achieve.

After discussing blocking with other members of staff it became apparent that everyone chooses a different way to block, which in turn create the desired results. There is something nice about choosing your own preferred method, something many of us do anyway when casting on a new knitting project. Should I use the thumb cast on, two needle cast on or maybe another method? I also put a photo out on Facebook of Lucy's super creative, homemade blocking contraption made out of Lego, asking the question what do you use when blocking your knitting or crochet? Lucy's idea was met with much adulation, an idea that had everyone ready to raid their children's / grand-children's toy box to build their own.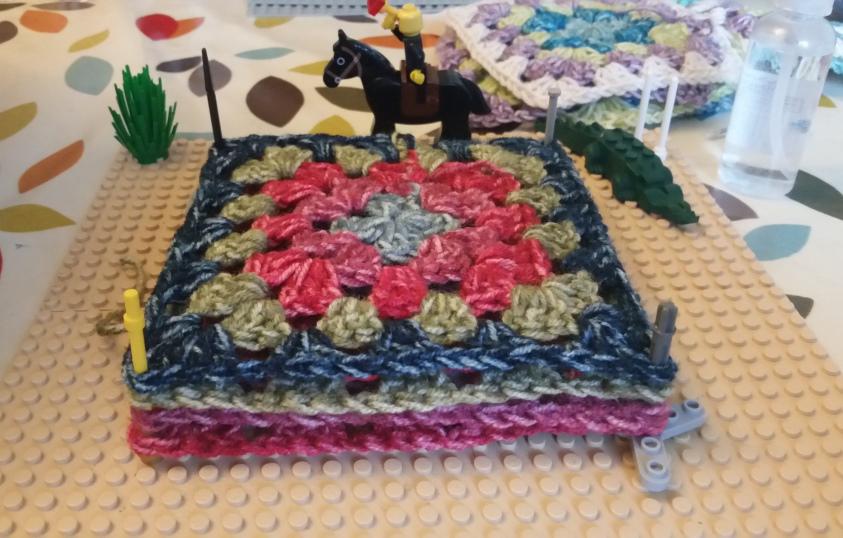 Lucy's Blocking Technique
Lucy has made a custom sized blocking area using Lego, complete with Lego man one horse and a crocodile. The great thing is she can adjust this depending on the size of the pieces she is blocking, a great idea for granny squares. To help keep the shape she has given each square a light spritz of water after laying it on.
If you are wondering what yarn these juicy shades are from - it's Stylecraft Batik Dk. Keep an eye out on our Instagram and Facebook for photos of the finished blanket.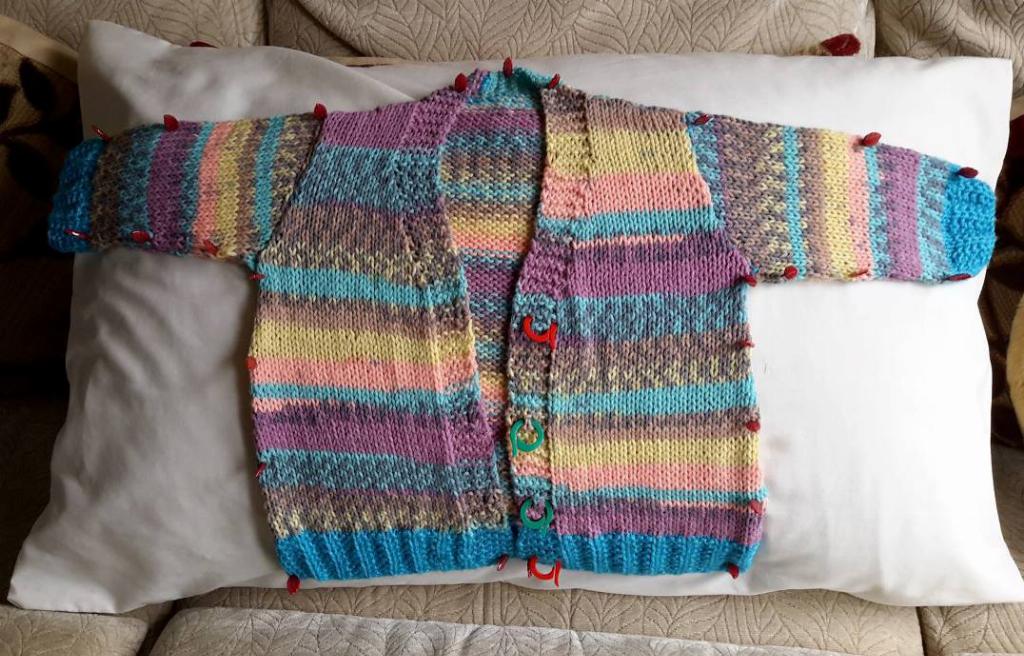 Pauline's Blocking Technique

Pauline is a customer who posted her technique for blocking knitting on our Facebook page. She has knitted the most adorable cardigan in Sirdar baby crofter dk. This is what Pauline does -

"I soak the knitting for 20 mins, them squeeze the excess water out. Then I roll it in a towel. I then pin it neatly in place. Do not stretch, just straighten it out. I use a pillow, which I then put in the sun to dry the item off. I got the idea when I read that someone used her spare bed mattress."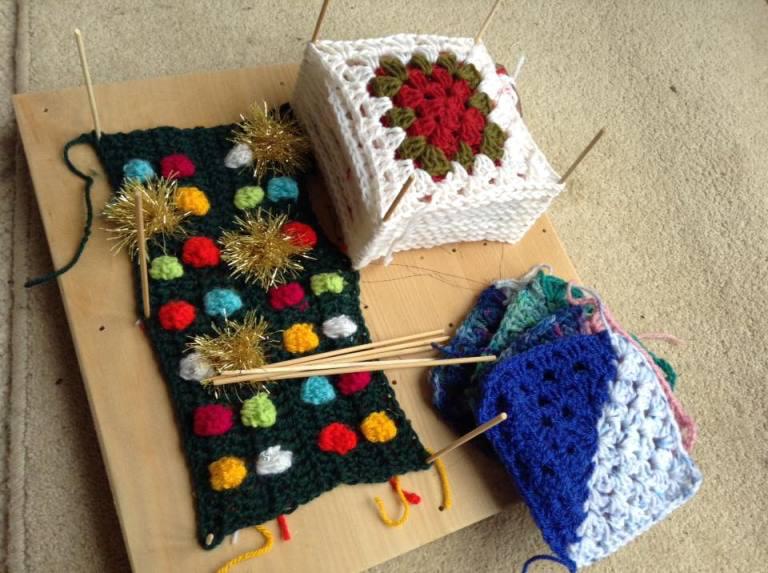 Judy's Blocking Technique

Judy posted this photo to our Facebook page. A wooden board with various holes drilled into it to accommodate the varying shapes and sizes of her crochet pieces, a simple idea that can be easily adjusted as and when you need to.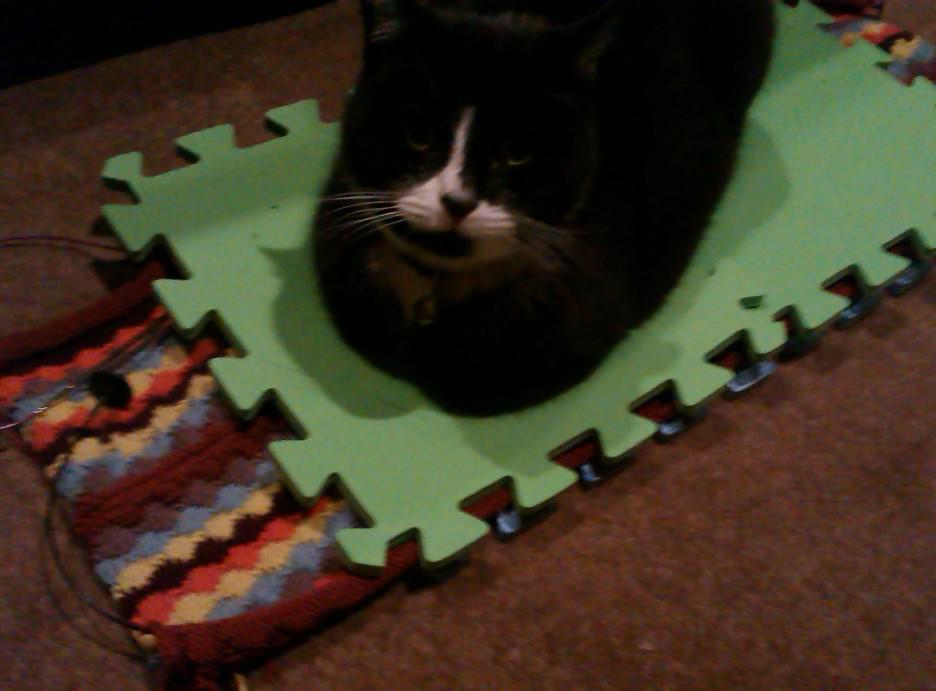 Barbara's Blocking Technique

Barbara works at Black Sheep Wools and she has a rather interesting technique for blocking. This involves a little help from a feline friend - her cat, Lily. Lily looks like she means business on this photo and will not be moving off the blocking mat until Barbara's beautiful top is blocked to her standard. These are KnitPro blocking mats that can be purchased from Black Sheep Wools. I am afraid we don't have a cat to go with them, but you could use T-pins instead.
There you have a it a mixed bag of ways to block your knitting or crochet. If you would like to share your favourite method with us please send an email to social@blacksheepwools.com. As a crafter it is great to share our knowledge, there is always something new to learn or a technique to improve on. Keep an eye out on our social media for even more blocking techniques that have been sent in to share.